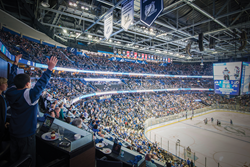 "It was an exciting season – we were thrilled for our customer and happy we were able to accommodate the team's advancement into the season."
Minneapolis, MN (PRWEB) November 10, 2015
Mortenson Construction, a leading builder of sports facilities in the U.S., has just completed a 12-week lightning round of renovations at Amalie Arena – the latest in a series of projects aimed at improving the fan experience at Florida's premier sports and entertainment venue. Work on the Arena began less than 10 hours after the last game in the 2015 Stanley Cup Finals.
"We had originally planned for five months of off-season renovation work," said Brent Leiter, Project Executive at Mortenson Construction. The five-month window was reduced to three months as the Lightning advanced through the playoffs and on to the Stanley Cup series. "It was an exciting season – we were thrilled for our customer and happy we were able to accommodate the team's advancement into the season."
The $25 million renovation focuses on fan-facing upgrades including the reconstruction of an entire club level that incorporates modern amenities for season ticket members (which was considered during the design phase in the mid-1990's but never built), and the locker rooms, performer rooms, and media and hospitality spaces on the event level will be modernized for the first time since the Arena opened in 1996.
"Construction moved at a very accelerated pace and our team's experience on sports projects really came into play in terms of coordination and sequencing," said Derek Cunz, Vice President and General Manager of Mortenson Construction's Sports Group. "It's not only about finishing on time, but it's making sure our customer can maintain business as usual – and we take great pride in knowing we haven't had a negative impact on their business."
The Arena has hosted 27 events since the project began in July.
In November 2011, Mortenson Construction completed a $40 million renovation of Amalie Arena in a similarly compressed schedule. Over eighty-five percent of the costs for the transformation were paid to Florida firms for labor or products supplied by Florida firms.
Project Statistics
78,090 SF renovations including on the event level, promenade, club level, suite level, and terrace:

Renovations to 75% of Club Level Concourse
Upgrades to seven Concession Areas
Locker Room and Performer Room Upgrades
Bathroom Renovations on the Club Level and Suite Level
Expansion of Two Club Level Loft Areas
Addition of a 140-seat Loge seating area and Upgrades to Exterior Entertainment Deck
About Mortenson Construction
Founded in 1954, Mortenson Construction is a U.S.-based, family-owned construction company with a presence in the Tampa community since 1983, completing 47 projects valued at $523M.
Engineering News-Record currently ranks Mortenson as one of the top sports builders in the U.S with notable facilities under construction including the Golden State Warriors Arena and Entertainment Complex (Home of the NBA Golden State Warriors); SunTrust Park, (Home of the MLB Atlanta Braves); U.S. Bank Stadium (Home of the NFL Minnesota Vikings); Target Center Renovation (Home of the NBA Minnesota Timberwolves) and the Amalie Arena Renovation (Home of the NHL Tampa Bay Lightning). Additional Mortenson-built sports facilities include Target Field, Minneapolis; Xcel Energy Center, St. Paul; Target Center, Minneapolis; TCF Bank Stadium, Minneapolis; KFC Yum! Center, Louisville; Kinnick Stadium, Iowa City; FedExForum, Memphis; Coors Field, Denver; Pepsi Center, Denver; Sprint Center, Kansas City; ShoWare Center, Kent, Wash.; Edward Jones Dome, St. Louis; Camelback Ranch Spring Training Facility, Glendale, Ariz.; Amsoil Arena, Duluth; and Salt River Fields at Talking Stick, Scottsdale, Ariz.
Mortenson has offices in Chicago, Denver, Milwaukee, Minneapolis, Phoenix, Portland, San Antonio and Seattle, along with operations in Canada. For more information, visit mortenson.com.