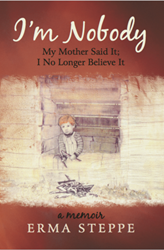 I spent my own childhood not knowing my age or last name. In a sense, I wrote my memoir as a journal to pour my emotions on a page
CHAPEL HILL, N.C. (PRWEB) November 11, 2015
Abandoned as a toddler, Erma Steppe spent all of her childhood throughout different children's homes and foster care. Not only did Steppe suffer mental and physical abuse, but she also experienced being homeless and emotionally empty. Despite everything that she went through, all she ever wanted was to hear her mother say, "I love you."
In Steppe's new book "I'm Nobody," she recalls the constant neglect and abuse from not only her mother, but also her mother's boyfriends and the foster care system. Steppe's mother always told her that she was a nobody and right after she turned 16, Steppe ran from the pain and began a life of freedom.
"I spent my own childhood not knowing my age or last name. In a sense, I wrote my memoir as a journal to pour my emotions on a page," Steppe said.
After trying to keep her past a secret, Steppe made the decision to start sharing her story through her book as a final good-bye to her mother.
"Twenty years later and now all my stories are unraveled. I knew that my mother was incapable of loving me, but I had to end my dream of seeking that," Steppe said.
"I'm Nobody" is a truthful encounter of a life that was helpless with no guidance and love. It shows of a journey that one woman went on to love herself and displays evidence that we all want to be loved.
"I'm Nobody"
By: Erma Steppe
ISBN: 978-1-4502-7398-5
Available in softcover, hardcover, e-book
Available on Amazon, Barnes & Noble and iUniverse
About the author
Despite her abandonment and learning disabilities, Erma Steppe graduated from Morehead State University. Now retired as a juvenile treatment supervisor and mental health counselor, she has spent most of her life pouring into children that need affection. Steppe is the author of "I'm Nobody" and is currently writing her second memoir. She resides in Chapel Hill, N.C. with her husband and enjoys spending time with her family.
# # #
For review copies or interview requests, contact:
Katie Wenclewicz
317.602.7137
kwenclewicz(at)bohlsengroup(dot)com