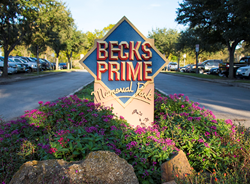 We're really excited about the new space. We've added booth seating, craft beers on tap, big-screen televisions, and new furniture
Houston, TX (PRWEB) November 16, 2015
Houston's very own Becks Prime has remodeled and revamped their popular Memorial Park location, and extended their 20-year partnership with the Houston Parks and Recreation Department.
"We're really excited about the new space. We've added booth seating, craft beers on tap, big-screen televisions, and new furniture" said Becks Prime President, Molly Voorhees.
"We value the service that Becks Prime offers Memorial Park visitors," said Joe Turner, Director Houston Parks and Recreation Department. "We look forward to the opening of the renovated facility with its new amenities and quality service offered by Becks Prime."
As the only restaurant in Memorial Park, Becks Prime provides a charming and easy escape from the City. "Our patio is a beautiful spot from which one can see the green that Houston has to offer."
"We provide a great meeting place for lunch, after-work drinks on the patio, golf tournaments and parties. Our catering services and remodeled space are a gorgeous venue for all sorts of family and business gatherings, from formal board meetings to sports banquets to birthday parties," said Voorhees.
Becks Prime has always had a long-standing love of nature. Besides their work with Memorial Park, Becks Prime received the Urban Forestry Award from the State of Texas for successful preservation of the largest 400+ year-old Live Oak trees in Harris County at the Augusta Drive location.
Memorial Park is a foundation for parks in the Houston community and more than 60,000 golfers and 1,500,000 runners visit the golf course and the Park's Seymour Lieberman Trail each year.
"We were thrilled to be part of the new golf course clubhouse building in 1995, and the Park's revitalization," Voorhees added.
"Over the last twenty-one years, we've paid over $2.2 million in concession fees. It has been a true win-win for the City of Houston and Becks Prime, and we're looking forward to the next chapter."
"We celebrate and congratulate Becks for its renovations, which is perfectly timed with the revitalization of Memorial Park with the execution of the 2015 Master Plan now underway" said Shellye Arnold, CEO, Memorial Park Conservancy.
About Becks Prime
Founded by Win Campbell, Mike Knapp and John Storms, Becks Prime has been a Houston institution since 1985. The first Becks Prime opened on Kirby Drive with a double drive-thru and an open-air patio. Since then, very little has changed with regard to food preparation and the relentless drive for superior quality food and service. The founders continue to be involved in the day-to-day running of the company. The cooks butcher, grind and patty fresh 100% Certified Angus Chuck on-site at each location daily. Becks Prime doesn't use microwaves or freezers (the only freezer is for the beer mugs). Everything is cooked-to-order, grilled over mesquite wood coals and prepared fresh, just like it was thirty years ago. Privately owned, Becks Prime currently operates 13 locations in Houston and Dallas.
For more information, visit the Becks Prime website at http://www.becksprime.com