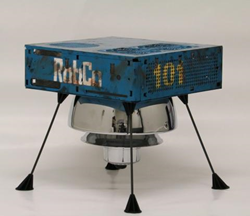 Frederick, MD (PRWEB) November 12, 2015
Glade Creek Technology founder Jon Pollock has spent countless hours creating a one-of-a-kind desktop PC. RobCo, builder of computer systems in the Fallout realm, was the inspiration for this classic kitsch PC build. Astute Fallout fans will notice the nod to Vault 101 which is located outside Washington, DC, and is the home of Jon Pollock who originally conceived this design.
Pollock took on the project to express his passion for Fallout and high-powered PCs. "I wanted to see just how far I could push the performance envelope on an air-cooled, mini-ITX build," says Pollock as he points out the vintage 1950's Vornado classic which keeps the whole thing cool both figuratively and literally. It's that fan which gave rise the name "RobCo HoverBox".
This mini-ITX build is barely bigger than an Xbox, but is crammed full of the fastest computer components available today – including a Skylake processor overclocked to 5 GHz and 980 Ti graphics.
The case features careful attention to detail both inside and out. The design was made possible with the help of a 3D printer, and several custom parts. Inside, every component was hand tuned for maximum performance. "I've probably logged over 100 hours on this project," admits Pollock "but it's hard to keep track when I'm so absorbed in something."
The system is being auctioned off on eBay.