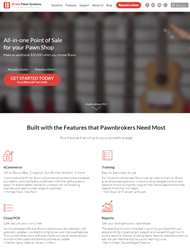 We are excited for the launch of our updated website and we hope it provides helpful information for all pawnbrokers!
Las Vegas, NV (PRWEB) November 11, 2015
Bravo Pawn Systems, a Cloud-based point of sale software for the pawn industry (http://www.bravopawnsystems.com), announced today that it has officially launched a new website. According to Tally Mack, Vice President of Business Development, the new website is aligned with the company's strategic vision for growth, expansion, and education.
"We have been in business for nearly five years and have spent this time listening to our customers and learning about our customers' needs," Mack commented. "As a software company that prides ourselves on innovative technology and industry expertise, we know that a constantly evolving website is a necessity."
The new Bravo website offers simple navigation, while also providing pawn operators helpful resources. The resources include pawnbroker guides, case studies, and store spotlights. Bravo continues to be committed to updating its blog with tips and tricks, new release updates, and helpful industry information written by Bravo employees and other industry experts. The blog also includes press releases and a section for new products.
The updated "Top Features" section on the front page of the website showcases four Bravo users and their experience with various services Bravo provides, such as eCommerce, Training, and Reporting.
"The revamped website does not replace direct sales or customer service calls, but our goal in launching this new website is to provide an additional resource for our prospects and customers," Mack said. "We are excited for the launch of our updated website and we hope it provides helpful information for all pawnbrokers!"
Bravo's new website will be updated regularly with news of product launches, store spotlights, company milestones, and pawn industry eBooks. Visitors are encouraged to explore the website and sign up for the newsletter at BravoPawnSystems.com.
About Bravo Pawn Systems:
Bravo Pawn Systems believes in the success of the pawn industry and strives to see pawnshops grow and compete with the national big box stores. Developed by a 4th generation pawnbroker specifically for pawnbrokers, Bravo helps companies find solutions to challenges they face with day-to-day operations. Bravo has accommodated new business startups to Fortune 1000 clients.