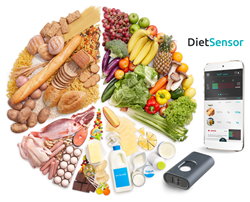 We imagined DietSensor in 2014 when we discovered that our 9-year-old daughter was affected by a Type 1 Diabetes (Juvenile Diabetes) and had to estimate all the carbohydrates of their meals for llife
New York, NY (PRWEB) November 10, 2015
"Let food be thy medicine!" with these words spoken way back in 5th century BC, Hippocrates the father of western medicine recognized the value of eating well. At DietSensor we do not want only make food tracking easy and instantaneous, but more importantly, we want to bring useful information, insight, and advice to empower those who really need it – such as those with chronic diseases who must balance their diet carefully.
DietSensor is borne thanks to the capabilities offered by the first, pocket, bluetooth-connected molecular sensor: SCiO which uses something called near infrared spectroscopy to determine the chemical makeup of food and drink. Each type of molecule in a food vibrates in its own unique way, and these vibrations interact with light to create a unique, optical signature. In brief, spectrometers analyze what is in a substance based on how its molecules interact with light. This method has been used in labs throughout the world, but with very large, expensive spectrometers. DietSensor is able to make this technology available to any of us with the revolutionary, pocket-size SCiO, the DietSensor database and the nutrition coaching app.
«We imagined DietSensor in 2014 when we discovered that our 9-year-old daughter was affected by a Type 1 Diabetes (Juvenile Diabetes) and that we noticed that 38 million people with Type 1 Diabetes had to estimate all the carbohydrates of their meals for life, to measure their insulin. Unfortunately today most part of the concerned people make this estimate in a very random way, with a strong risk on their health. Motivated by the ambition to improve the lives of all people affected by this disease, and more generally all those who need information about what they eat, we left our respective jobs to launch this ambitious project. This "Best Of Innovation Award" confirms that we answer to a global issue and it encourages us to accelerate our efforts in that way», explain Remy and Astrid Bonnasse, co-fondateurs of DietSensor Inc.
The prestigious CES Innovation Awards are sponsored by the Consumer Technology Association (CTA)TM, the producer of CES 2016, the global gathering place for all who thrive on the business of consumer technologies, and have been recognizing achievements in product design and engineering since 1976.
DietSensor and the SCiO sensor will be showcased at CES 2016, which runs January 6-9, 2016, in Las Vegas, Nevada. Best of Innovation Honorees are also being showcased today at CES Unveiled New York, which features dozens of exhibitors and networking opportunities and runs 4:30-7:30 PM November 10 at the Metropolitan Pavilion in New York.
Entries are evaluated on their engineering, aesthetic and design qualities, intended use/function and user value, how the design and innovation of the product directly compares to other products in the marketplace and unique/novel features present.
CES 2016 Innovation Honoree products are featured on CESweb.org/Innovation, which lists product categories, as well as each product name, manufacturer information, description, photo and URL.
Here the full press kit http://bit.ly/1Sgs5wj