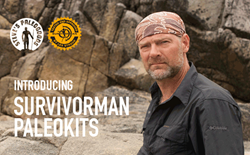 Huntsville, ON (PRWEB) November 12, 2015
Les Stroud, the award-winning producer, creator and star of the hit Discovery Channel TV series, "Survivorman," as well as a popular musician, announced today a collaboration with Steve's PaleoGoods to create two new PaleoKits.
"I am excited to work with a company that produces high quality products and gives so much back to the community." said Les Stroud, star of 'Survivorman,' "These great new PaleoKits contain natural ingredients sourced from areas where I started my Survivorman legacy. The time has come for me to get high quality survival products out to people. Products that actually work and can make a real difference."
"We are proud to partner with Les Stroud on the Survivorman PaleoKit," said Steve Liberati, owner of Steve's PaleoGoods. "His love of adventure and passion for authentic experiences are a perfect fit with our brand."
The first two PaleoKits are called the Canadian (with honey maple elk jerky, dried blueberries, juicy bacon, almonds and walnuts) and the North American (sweet southern BBQ venison paleojerky, pumpkin seeds, cranberries, mulberries and pecans) and are available on the stevespaleogoods.com website now.
About Survivorman: Les Stroud
Best known as the Canadian Screen Award winning producer, creator and star of the hit TV series Survivorman, Les Stroud is the only producer in the history of television to produce an internationally broadcast series entirely written, videotaped and hosted alone. With Les known as the original genre creator of 'Survival TV', Survivorman is one of the highest rated shows in the history of OLN Canada, the Science Channel US and Discovery Channel US and remains the highest rated repeat show on the Discovery Channel. Survivorman is licensed for broadcast worldwide, with ratings in the US hitting 2 million on individual episodes. He has been nominated for 17 Canadian Screen Awards (formerly the Geminis) and has won for Best Writer and Best Photography.
A celebrated keynote speaker, musician and author, both his books Survive! – Essential Skills and Tactics to Get You Out of Anywhere–Alive! (Harper Collins) and Will to Live have made the New York Times bestseller list.
Revered worldwide for his iconic harmonica playing, Les's songwriting style runs an eclectic gambit, from art-folk-roots rock to contemporary art rock. He has written all the theme songs for his TV series and scored several independent films. He has won numerous regional music festivals, recorded four CDs (one in collaboration with the Canadian hit makers the Northern Pikes). He is currently recording his fifth and sixth albums.
A proud member of the prestigious Explorers Club, Les received Fellow (highest rank) of the Royal Canadian Geographic Society. Les has received both the Distinguished Alumni award and was nominated for the Premieres award for excellence for work in his field. He contributes to dozens of charities and benefits, and is an advanced survival trainer for the Canadian Military Armed Forces.
About Steve's PaleoGoods: It all started with a KIT and a KID.
In 2007, founder Steve Liberati was working for his father's exterminating business, but his real passion was nutrition and fitness. After getting to know some young teens on his regular route, he was moved to invite them to workout with him in a local park. From the conditions they were living in, Steve knew their recreational options were limited and potentially dangerous.
Before long, Steve had a pack of kids he trained regularly with whatever equipment he could fit in the trunk of his car. A firm believer in paleo nutrition, Steve wanted to provide a nutritious lunch for his young athletes that they could eat at school. So he packaged beef jerky, nuts and berries to stay fresh in their backpack. And his flagship product the PaleoKit was born.
Knowing he had stumbled upon a solution for paleo dieters looking for hard-to-find portable lunch and snack options, Steve started selling his PaleoKits online. Seven years and 60 products later, athletes, outdoor enthusiasts and paleo people around the globe have made Steve's PaleoGoods their favorite on-the-go clean eating options.
Much has changed since those early park days. Every day after school, about 40 young athletes from the hard streets of Camden City, NJ pour into "Steve's Club," the gym at Steve's PaleoGoods. They lift weights, jump on boxes, climb ropes and do pull ups--as a way to pull out of the perils of street life. Some of the older teens even work next door in the warehouse where Steve's PaleoGoods are made, packed and shipped.
Although the company has grown, one thing will never change. Helping at-risk youth realize their potential through fitness, nutrition and leadership skills is the driving force behind Steve's PaleoGoods. Each purchase changes lives--15% of the proceeds go directly to Steve's Club National Program that has 30 local clubs around the country.