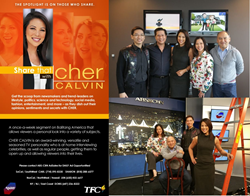 With Cher's successful career on US mainstream TV, backed up by her true-blue ABS-CBN training, she reaches out to a whole new Filipino-American audience. Watch out! Cher is sure to give us great interviews with trend-leaders that are truly share-worthy!
REDWOOD SHORES, CA (PRWEB) November 10, 2015
By Steve Angeles, Balitang America
From one-on-one interviews of big personalities to action-packed adventure shows, the career of Cher Calvin as a journalist has spanned across the Philippines and in the U.S.
The New York-born and raised daughter of Philippine leading man Roger Calvin, Cher was once a beauty queen. After studying in NYU and working behind the scenes at Time and CNN, she headed back to her Philippine roots and enjoyed a 4-year career at ABS-CBN.
"The opportunity to work in front of the camera is something I wanted to do," Cher said. "I was only in my early 20s. What an opportunity that was so I jumped on it. That was a dream come true."
Cher had become a familiar face on different ABS-CBN News programs. She proved her versatility for the hard news and the fun stuff.
"I think that working with the likes of Teddy Boy Locsin and even Mar Roxas was definitely a blessing. Working with Jessica Zafra and Mo Twister, and with Daphne Paez and Angel Aquino was the more fun side, so I kind of got the best of both worlds," Cher added.
After five years in the Philippines, she came back to the U.S. hitting local mainstream networks and for the past decade, she's found a home at KTLA 5 as their anchor, winning four Emmy awards and a pair of Golden Mike awards. One of those Emmy's was a product of her work running a telethon to benefit typhoon Yolanda survivors.
The mainstream glitz and glamour hasn't kept Calvin from celebrating her Philippine roots. She is often seen at Filipino events.
"I'm Filipino" she firmly said. "It's who I am and it's something that's never going to be away from me. I'm proud to be Filipino and I'm proud to be a part of these events because it brings up our culture and our pride."
Sometimes life can really come back full circle... Cher is returning to where it all started: back at ABS-CBN doing the new show, Share That With Cher Calvin, aired every Tuesday on Balitang America only on ABS-CBN The Filipino Channel (TFC).
"We're going challenging celebrities along the way. We're going to get golf lessons from one of the greatest golf pros that happens to be Filipino and at the same time try to challenge people, put them in situations that you wouldn't expect to see them in," she said excitedly.
The show will be reminiscent of Cher's Kapamilya days as she brings her celebrity friends along for a series of adventures.
"It is like coming back home," Cher said. "It's where I was able to hone my skills as a broadcaster I spent from 1999-2003 at ABS-CBN from ANC to Studio 23."
In Share That With Cher Calvin, she goes in depth with celebrities and at times joins them for fun challenges.
"I think it's going to be a fun segment," Cher shares. "We've already shot a whole bunch of stuff and some of the things the celebrities we've interviewed are sharing with us are just things you'd never would expect so we're really excited. You're going to be able to see a different side of celebrities especially the ones that are newsmakers in the Filipino community."
"We're very excited to have Cher Calvin onboard Balitang America," said ABS-CBN North America News Bureau Chief Paul Henson. "Share That With Cher Calvin brings new energy to the show. With Cher's successful career on US mainstream TV, backed up by her true-blue ABS-CBN training, she reaches out to a whole new Filipino-American audience. Watch out! Cher is sure to give us great interviews with trend-leaders that are truly share-worthy!"
Part inspirational. Part informational. Part fun. Part daring. 100% Share-worthy. Catch Cher Calvin on Share That With Cher Calvin, every Tuesday on Balitang America, only on TFC. (With additional input from Nerissa M. Fernandez)