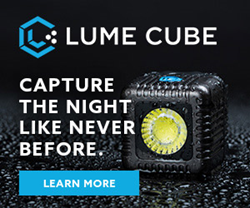 "This compact and versatile light source makes capturing high quality still photographs and videos possible at night for the first time."
San Diego, CA (PRWEB) November 11, 2015
Today marks an important day in the world of GoPro, iPhone, Android and all casual capture devices. November 11, 2015 signifies the global launch of sales for Lume Cube. The first of its kind, Lume Cube is a powerful and ultra-portable lighting tool that will open new creative possibilities for photographers and videographers of any skill level. Controlled via a smartphone app on both iPhone and Android devices, the Lume Cube is built for those looking to get the most out of their GoPro's, smartphone cameras, action cams and traditional digital cameras. Lume Cube's award shelf consists of USA Today's Reviewed.com 'CES Editor's Choice Award' & Videomaker's 'Best Light' Award from the 2015 Consumer Electronic Show as well as the 13th Annual Lucie Technical Awards, 'Best LED Lighting Element' for 2015.
As our casual capture devices™ decrease in size, they continue to struggle in low light conditions. This compact and versatile light source makes capturing high quality still photographs and videos possible at night for the first time. Measuring only one-and-a-half inches squared, the Lume Cube produces 1,500+ lumens of light and is waterproof to 100ft depths.
In addition to its high level of portability, Lume Cube also simplifies its lighting controls with a proprietary wireless, Bluetooth-enabled app, available on both Apple iOS and Android. Able to control up to 100 Lume Cubes simultaneously, the app is designed to be intuitive enough for the most novice smartphone shooters while offering ample light for experienced photographers with DSLRs and extreme sport action cameras like the GoPro.
The app allows users to adjust the brightness, flash duration and red eye latency on each Lume Cube independently; and with its onboard optical sensor, Lume Cube can be configured as a slave flash unit to be fired by any other external flash.
Will be available for order for a retail price of $79.99 at the following locations:
http://www.lumecube.com
http://www.walmart.com
http://www.bhphotovideo.com
For more information on Lume Cube, please visit http://www.lumecube.com.
About Lume Cube
Lume Cube (http://www.lumecube.com) is a San Diego based company revolutionizing the way people capture content. Creating intelligent solutions in the world of imagery and casual capture devices, Lume Cube is disrupting the status quo and opening the doors to a new world of content creation. From surfer to mountaineer, foodie to photographer and professional to consumer, the Lume Cube is a companion to all. Led by former tech executives, athletes and imagery specialists, Lume Cube was established in 2014 and will continue to lead the content creation market through forward thinking solutions.
See More. Do More. Be More.