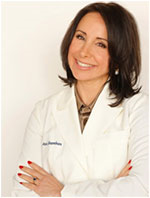 "I have combined anti-oxidants, peptides, vitamins and botanically derived oils to coax the skin into its best behavior," said Dr. Ava of her new skincare line AvaInfuse
Beverly Hills, CA (PRWEB) November 23, 2015
Dr. Ava Shamban, a well-respected dermatologist based in Beverly Hills and Santa Monica, recently launched her new luxury product line, AVAinfuse, available exclusively through the AVAinfuse website (http://avainfuse.com/). The new line is brings science and nature together to target common aging and skincare concerns with the highest-quality, most potent ingredients that have been tested by dermatologists and proven effective.
Skin care is also a stand-alone process and with the right ingredients acts like a tiny team of artisans creating the perfect smooth, glowing pallet so that your feature – your eyes and mouth – can be shown off in the most flattering light.
"I have designed a skin care regimen that will take care of your skin day in and day out through its combination of botanically derived active ingredients," explained Dr. Shamban. "These are formulated to specifically address, remove and prevent so many of the skin issues that we face as we get older or accumulate exposure to toxins in the environment or sun damage."
The AVAinfuse line contains seven products, each formulated to address a specific skin concern, from protection against environmental pollutants to softening of fine lines and wrinkles around the eyes and hydration for dry, sensitive skin. The ingredients are natural and botanically derived, designed for maximum efficacy while still being gentle on the skin. The Harvard graduate and Assistant Clinical Professor of Dermatology at UCLA used her years of research and clinical skin care experience to create this line.
"I opened my first practice over twenty years ago, and over the years I have seen every type of skin concern imaginable," said Dr. Shamban. "Skin care forms a bridge between procedures I do in the office, and I recognize that it is a 'team' approach the same way that we combine lasers, peels and injectables to get great results. I have combined anti-oxidants, peptides, vitamins and botanically derived oils to coax the skin into its best behavior."
AVAinfuse is the latest addition to Dr. Shamban's roster of dermatologist-developed skincare products. Dr. Shamban believes in long-term skincare, and in addition to offering cosmetic and medical procedures such as acne treatments, lasers, and injectables, she also works with her patients to develop a skincare regimen that will help their skin stay healthy and youthful while preserving the effects of the procedure.
"Each patient is unique, and I want to work to bring out their individual beauty," said Dr. Shamban. "AVAinfuse helps preserve and protect the skin so each person can put their best face forward."
About Dr. Ava Shamban:
AvaMD, a Medical and Cosmetic Dermatology practice, was founded by Dr. Ava Shamban to provide a spirited, results-driven approach to skin care, supported by advanced technology and a rigorously trained staff committed to extraordinary service. Dr. Ava Shamban - a renowned board-certified dermatologist licensed to practice medicine in California, New York and Hawaii--graduated magna cum laude from Harvard University before receiving her medical degree from Case Western Reserve Medical School. In addition to serving as Assistant Clinical Professor of Dermatology at the UCLA-Geffen School of Medicine, she is recognized as the "Extreme Makeover" dermatologist and the resident expert on the Emmy winning daytime talk show, "The Doctors." Dr. Shamban is also author of the book, Heal Your Skin: The Breakthrough Plan for Renewal (Wiley). As a key opinion leader in the field, Dr. Shamban has lectured extensively both nationally and internationally on topics ranging from medical and cosmetic to laser dermatology. She is a pioneer in developing the multimodal treatment approach to acne, acne scars, pigmentary problems and rosacea; has served as principal investigator on many clinical trials for both pharmaceuticals and devices that led to FDA approval; and has published extensively in prestigious medical journals. She is frequently featured as a dermatology expert on local, national and international television shows. Dr. Ava is a passionate advocate for natural good looks through scientifically proven treatments and healthy lifestyle changes that restore and heal skin and spirit, at the same time empowering men and women of all ages to live more confident, healthy and happy lives. For more information, please visit: http://www.avamd.com