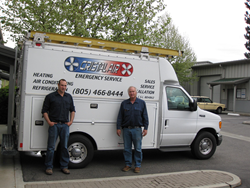 If current heating and cooling systems are more than 10 years old, it may be time for an upgrade.
Atascadero, CA (PRWEB) December 11, 2015
The typical American household produces twice the amount of greenhouse gas emissions as the average car, largely due to the energy costs tagged to heating and cooling services.
What costs energy generally costs money as well. For this reason, many people should be looking for ways to cut the usage and price tag on their energy bill. Not to worry, saving energy doesn't necessarily mean sacrificing convenient luxuries such as air conditioning; Today, Cristal Air & Emergency Service, heating and air conditioning repair Atascadero specialists have issued a report on 10 Tips to Reduce Heating and Cooling Bills. To view the report, see below or click here.
1. Lower the thermostat. Set the thermostat to 78○F in the summer and 68○F in the winter. While it may not seem like much of a difference maker, it can significantly alter energy costs.
2. Tune it up. With the help of a qualified technician, tune up the system. Make sure that the technician can ensure all its components are running properly. This not only saves money on energy, but on future repair costs.
3. Program the thermostat. Program the thermostat to have energy-saving temperatures during the times that one will be away from home. Proper use of pre-programmed settings can save around $180 annually; once a schedule has been set try to avoid making changes, as these can quickly become costly.
4. Check it regularly. Check periodically that the thermostat is set at the right temperature and turning on and off as programmed.
5. Upgrade heating and cooling systems. If current heating and cooling systems are more than 10 years old, it may be time for an upgrade. Older units often malfunction which can make them less efficient in doing the job they're supposed to, while still costing you money. Newer units tend to operate more efficiently, but less costly.
To view the complete report, visit their blog.
About the company
Cristal Air & Emergency Service has been servicing the San Luis Obispo County area with the best heating and air conditioning repair, Atascadero local! We provide 24-hour emergency service as well as sales, installation, and maintenance, mobile home service included! Give us a call at (805) 466-8444
Cristal Air & Emergency Service
Heating and Air Conditioning Repair Serving Paso Robles and Atascadero, CA
2740 El Camino Real
Atascadero, CA 93422
(805) 466-8444
Press release by San Luis Obispo web design company Access Publishing, 806 9th Street, #2D, Paso Robles, CA 93446 (805) 226-9890.