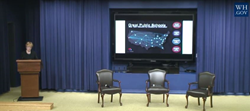 Getting to be a nation proud of its education system will mean investing in professional development and placing more trust in teachers and administrators, said CEO Dobyns.
Washington, DC (PRWEB) November 12, 2015
Today, the White House welcomed the first-ever White House Summit on Next Generation High Schools, hosting students, education practitioners from districts and charter organizations, business leaders, philanthropic organizations, and education innovators.
New Tech Network(NTN) President and CEO, Lydia Dobyns, presented the organization's work as a design partner for comprehensive school change already accomplished in 29 states, and highlighted plans to expand the number of schools during the next two years.
"There are no simple ways to transform schools," said Dobyns. "Defining what we want for students, aligning resources to support systemic change, and having policies to encourage innovation are all essential for spreading school transformation. Getting to be a nation proud of its education system will mean investing in professional development and placing more trust in teachers and administrators to facilitate relevant, engaging learning so that students become problem-solvers, inventors, communicators, in a word, THINKERS."
Earlier this year, the President -- as part of his 2015 State of the Union -- called for a national effort to create more Next Generation High Schools – schools that incorporate key elements of redesign including personalized learning, work-based learning experiences, deeper ties to post-secondary, including a focus on expanding STEM opportunities for girls and other groups of students who are underrepresented in high-growth, well-paying industries.
Later this week, the Administration will announce its intention to award over $20 million in federal grants through its Investing in Innovation (i3) grants specifically to support the reform and redesign of high schools that serve low-income students. i3 supports organizations that are transforming education in communities across America by implementing innovative and proven strategies while building evidence of what works to address persistent education challenges.
As a part of today's event, the Department of Education also announced the following commitments to improving the educational experiences of our high school students: Two new Career & Technical Education awards, a playbook for high school redesign, recommendations to transition to personalized learning, best practices guidance to reduce the course equity gap, and more.
"Plenty of examples of transformed schools abound, including the nearly 200 public schools in the New Tech Network today," said Dobyns. "So what makes a school a New Tech school? You'll find a culture that empowers students, where personalized learning happens through Project-Based Learning (PBL), featuring a pervasive use of technology and classroom-based assessment systems that measure what matters."
Through its proven school model, project-based learning platform, and powerful professional development, NTN guides schools toward lasting change and ongoing improvement. NTN also announced at the iNACOL conference its plans to expand personalized learning within its project-based learning school model. NTN Chief Operating Officer Tim Presiado led an interactive session that discussed how the union of project-based (PBL) and personalized learning can transform the way students learn. Presiado presented a strategic direction that now combines powerful elements of its school model with personalized learning strategies.
In 2013, the President issued a challenge in his State of the Union to redesign America's high schools so that young people graduate with skills and abilities aligned with the needs of a global economy. As part of that call to action, the President visited a number of leading high schools, including Manor New Technology High School (Texas), P-TECH (New York), and Worcester Technical High School (Massachusetts).
By the 2016 school year, close to 200 public-district high schools and charter schools, along with 50 elementary and middle schools, in 29 states will be implementing the New Tech school model. In 2016, 75,000 students will be learning in NTN schools located in urban, rural, and suburban locales (15,000 more students than in 2015).
"Our strong student outcomes (increased graduation rates, college attendance and persistence, and growth in critical thinking) have been accomplished in rural, urban and suburban communities across the country. Over the next two years we will expand to nearly 250 schools, where 4,000 teachers will serve 75,000 students. If we want this kind of teaching and learning to be the new normal, we must do a better job meeting the individual needs of students," continued Dobyns.
#####