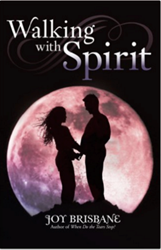 I saw the need for those who were in a dark place of pain to have a small, succinct, and powerful self-help book
MELBOURNE, Australia (PRWEB) November 11, 2015
Having nothing left to lose after her husband's death, Joy Brisbane revealed her psychic ability after 37 years. In her new book "Walking with Spirit," Brisbane recounts her journey as a medium while using this gift to help others become healthier.
"Walking with Spirit" is a succinct book with easy guidelines to follow, all while seeking to help people step out of the darkness and reclaim happiness.
"When we step into our divine heritage of living a joyful life; when we find the courage and strength to be who we truly are – then we enter into the experience of discovering inner freedom," Brisbane said.
Drawing on the wisdom gained through nursing, counseling, and being mentored by other psychics, Brisbane has learned there is no greater training than life itself.
"I saw the need for those who were in a dark place of pain to have a small, succinct, and powerful self-help book," Brisbane said.
By reading "Walking with Spirit" readers will learn how to pierce through the pain with self-healing. Individuals will also begin to take charge of their life and spread their newfound knowledge to those in need.
"Walking with Spirit"
By: Joy Brisbane
ISBN: 978-1-4759-6346-5
Available in softcover, hardcover, e-book
Available on Amazon, Barnes & Noble and iUniverse
About the author
Joy Brisbane is a psychic medium trained in nursing and counseling through Australia's Life Line counseling service and taught by Doreen Virtue in psychic ability. Brisbane has worked with individual clients, at facility workshops on grief, and has had experience with dreams and past life regression using her psychic ability. Brisbane has also written "When Do The Tears Stop?" a book about her experience grieving and how others can work through this difficult time. She currently resides in Australia and enjoys walking by the sea, gardening, and spending time with friends.
# # #
For review copies or interview requests, contact:
Katie Wenclewicz
317.602.7137
kwenclewicz(at)bohlsengroup(dot)com