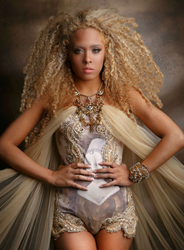 "I am honored to be embraced by my West Indian people,"
Los Angeles (PRWEB UK) 12 November 2015
Zhavea, also known as "The Warrior Princess Of Pop," has made her mark with two number one songs in the Caribbean this summer & fall. "Gimme That Love" ft Beenie Man topped the "Tempo" chart for six consecutive weeks, after being #1 in Jamaica for several weeks. Her single "Tun-Up" followed and remained at the top of the Tempo chart for eight weeks.
"I am honored to be embraced by my West Indian people," said Zhavea, who spent the entire carnival season in Grenada promoting her new single, "Johnny," produced by top Billboard producer Rohan 'Snowcone' Fuller.
Fans have witnessed an amazing performance by the Grenadian/American beauty, as she owned the 2015 Sumfest stage in Jamaica, delivering an energetic and entertaining performance to a sold out crowd.
Known for her signature long golden curls, and sexy, warrior-like fashion sense, Zhavea quickly adapted the name "The Warrior Princess of Pop". She has worked closely with "For The Stars Fashion House" and their top designers (Inoe Vargas and Rocky Gathercole) who are all responsible for her unique costumes and clothing that commands attention. "For the stars fashion house " is an upscale design showroom for the stars. They have designed clothing and costumes for other singers like Beyonce, J-lo, Katy Perry, Niki Minaj, Paris Hilton and many more.
With a devotion to music that started since childhood, Zhavea is prepared to take her music to new heights. She notched another number one spot on the Tempo chart with her single "Shut It Down," written and produced by Yoftahe Zewdu and JNAT beats. "Shut it down" would become her third number-one single in the Caribbean this year.
To keep up with Zhavea, follow her on:
Facebook: Zhavea19
Instagram: Zhaveaofficialmusic
Twitter: Zhaveaofficial
YouTube: Zhaveavevo
YouTube: zhaveaartistpage
To book Zhavea, write to marketing(at)jouvertrecords(dot)com