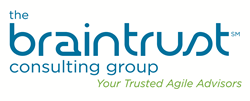 "We're pleased to add Keith's talents and shared core values to our growing resources for client services," Mr. Brian Rabon, president, Braintrust Consulting Group, said.
Birmingham, Ala. (PRWEB) November 11, 2015
Keith Townley of Nashville, has joined The Braintrust Consulting Group, as an account executive for the leading Agile and scrum certification training company.
Dan Reynolds, vice president of sales and marketing, said that Mr. Townley, an experienced professional of twenty years in the information technology contract staffing industry, will provide account services for clients and serve as a member of the sales team primarily in Nashville, Tennessee.
Mr. Townley previously worked in the IT recruiting industry in the roles of technical recruiter, account manager, and director of recruiting & Southeast Regional Director.
"We're pleased to add Keith's talents and shared core values to our growing resources for client services," Mr. Brian Rabon, president, Braintrust Consulting Group, said. "He brings experience in developing relationships and a focus on quality delivery that will continue to fuel our growth."
The Braintrust Consulting Group, established in Birmingham, Alabama in 2007, provides Agile training and coaching services for companies and individuals. Keith Townley will serve in the role of account executive in the Nashville-area market and can be contacted by email keith.townley(at)braintrustgroup.com or phone (205) 266-3466.
###
About The Braintrust Consulting Group
The Braintrust Consulting Group is the premiere leader in training and coaching in the field of Agile. Through practical, hands-on training and enterprise and team coaching, Braintrust leads professionals through the process of planning and implementing Agile processes, such as Scrum and Kanban. Braintrust blends people, process, tools, and training into one seamless formula in order to increase predictability of delivery, decrease time-to-market, and improve overall client satisfaction. A worldwide leader in Agile transformations, Braintrust offices are located in Salt Lake City, Utah, Birmingham, Ala., and Los Angeles, Cal. http://www.braintrustgroup.com