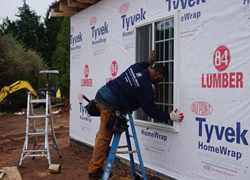 Being a part of rebuilding the lives of these brave men who sacrificed their freedom and indepedence is a very special opportunity for our company and we particularly honor and thank them for their service on this Veterans Day - Rick Wuest, CEO
Lanham, Maryland (PRWEB) November 13, 2015
Thompson Creek Window Company is proud to serve as the Regional Partner and window and gutter supplier for Homes for Our Troops (HFOT). HFOT is a privately funded nonprofit organization that builds specially-adapted homes nationwide for severely injured Veterans post 9/11 to enable them to rebuild their lives. For the fifth consecutive year, Homes for Our Troops has been awarded the highest 4-star rating by Charity Navigator, America's premier charity evaluator.
Founded in 2004, HFOT has completed almost 200 specially adapted homes nationwide in 40 states. Thompson Creek Window Company is currently volunteering, donating and installing windows and gutters on the brand new homes for Army Sergeant Steven Curry in Nokesville, VA and Corporal Marcus Dandrea is Haymarket, MD.
"Being a part of rebuilding the lives of these brave men who sacrificed their freedom and independence is a very special opportunity for our company and we particularly honor and thank them for their service on this Veterans Day. We are truly honored to partner with such an incredible organization and can't wait to see the homes completed in a couple months", said Thompson Creek CEO Rick Wuest.
About Thompson Creek Window Company
Thompson Creek Window Company is a privately owned and family-operated manufacturer and installer of energy-efficient home improvement replacement products. Founded in 1980, Thompson Creek Window Company began as a manufacturer of energy-efficient, maintenance-free vinyl windows. Since that time, Thompson Creek Window Company has evolved into one of the leading specialty home improvement contracting companies in the nation. The company's product mix includes replacement windows and doors, vinyl siding and a clog-free gutter system. Thompson Creek Window Company is headquartered in Lanham, MD with an 80,000 square-foot manufacturing facility in Landover, MD.
About Homes for Our Troops
Homes for Our Troops (HFOT) is a national non-profit, non-partisan 501(c)(3) organization founded in 2004 which supports Veterans Post-9/11 and their families by building mortgage-free, specially adapted homes nationwide. Most of these Veterans have sustained life-altering injuries including multiple limb amputations, partial or full paralysis, and/or severe traumatic brain injury (TBI). These homes restore some of the freedom and independence our Veterans sacrificed while defending our country, and enable them to focus on their family, recovery, and rebuilding their lives. HFOT builds these homes where the Veteran chooses to live, and continues its relationship with the Veterans after home delivery to assist them with rebuilding their lives. Since its founding in 2004, nearly 90 cents of every dollar donated to HFOT has gone directly to our program services for Veterans. Year to date, HFOT has built 187 specially adapted homes nationwide.