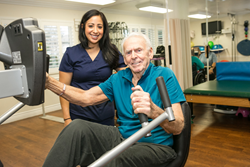 One of the most regularly asked questions is 'how do my Medicare benefits pay for skilled nursing?'
SACRAMENTO, CA (PRWEB) November 16, 2015
As part of National Caregivers Month, Sacramento's highly rated skilled nursing facility, University Post Acute Rehab, is hosting an informational open house Nov. 18, between 7:00 a.m. and 9:30 a.m. The breakfast event will shed light on changes in Medicare benefits effective in 2016 and is open to healthcare workers and community members area wide.
University Post Acute Rehab's Administrator, Jared Bake, said, "Everyone at some point will be affected by these changes, whether directly or because of a family member. One of the topics we plan to cover is how or even if these changes affect someone who goes to skilled nursing for physical, occupational or speech therapies." Bake is referring to Centers for Medicare & Medicaid Services' (CMS, CMS.org) recent guideline revisions, such as: "Final fiscal year 2016 payment and policy changes for Medicare Skilled Nursing Facilities" effective Oct. 2015; and raises in Medicare Part B and Part D coverage premiums effective Jan. 2016.
Bake added that he receives daily inquiries from patients and family members who are concerned if their benefits will cover the cost of skilled nursing services. In addition, he said patients who plan to go to skilled nursing are also concerned about the quality of care they will receive since the CMS announcement to transition away from fee-for-service care and towards value-based payment in the Medicare system.
Bake, administrator for more than a decade, added that in addition to changes in Medicare guidelines, guests will also receive information about other frequently asked Medicare-related questions. One of the most regularly asked questions is, "How do my Medicare benefits pay for skilled nursing?" He added that the primary purpose of the event is to give the public an array of the most up-to-date information about insurances, treatments, and available options in skilled nursing facilities in the Greater Sacramento Area.
Bake, whose skilled facility recently earned its second "Zero Deficiency" score from the California Department of Public Health, said the upcoming event is one of many scheduled over the next 12 months as an effort to keep people informed about the recent, nationwide reforms in healthcare.
"It's not only informational, but it's also convenient for those who want to stop by for a quick visit on their way to work or appointments," said Bake. "The event is free and open to the community. Parking is free. Plus we will have complimentary gourmet coffee drinks and a hearty, take-out breakfast catered by local company 'Fit Eats.'"
University Post Acute Rehab is located at 2120 Stockton Blvd., Sacramento, CA 95817. For more information about this event, upcoming events, or University Post Acute Rehab skilled nursing services, please visit our website, or call Administrator Jared Bake or the Community Relations Director, Cristel Irwin, at (916) 452-6631.