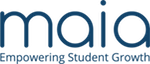 Maia lets students take more ownership of their plans
Palo Alto, CA (PRWEB) November 17, 2015
Most middle and high school students have narrow views of career possibilities, because they have limited knowledge of what adults do. This is particularly true in underserved communities. Students use assessment tools which recommend careers based upon profiles; but they are often frustrated when those tools ignore their own ideas, and offer little beyond lists of possibilities. Many disengage from the entire process.
Maia now engages students with extensive career research and guidance that uses continually updated data from workers in each occupation.
Maia's process begins with the Do What You Are and Multiple Intelligence assessments which students complete online. These recommend careers and majors; and summarize the activities, skills, and wages associated with each. Students add their own ideas to these recommendations and use Maia to explore each career's technology requirements, work style, values, education requirements, and job zone.
As students research careers, they can discover other occupations with similar characteristics and requirements. They can see which ones are expected to grow over the next several years, will have large numbers of openings, or are new and emerging occupations.
Students flag the most appealing careers, then have Maia automatically create plans showing the required education, knowledge, skills, and work values. Students complete the plans by describing how they will fulfill these requirements. In the process, they become more engaged and enthusiastic about developing and executing them.
9th grade counselor Steve Brown of Lake Shore High School says, "Maia lets students take more ownership of their plans".
Maia is the evolution of CollegeOnTrack, one of District Administration Magazine's Top 100 Education Products of 2014. Maia's enhanced career capabilities are included with all school contracts at no extra cost as client schools are moved from CollegeOnTrack to Maia. Schools not yet using Maia can request pilot programs to evaluate the complete system.
Maia is a product of ServiceInfinity Inc.
About ServiceInfinity Inc.
ServiceInfinity Inc. provides cloud-based software as a service (SaaS) that helps create interactive learning communities among students, counselors, teachers, and parents. For more information about this topic, or to schedule an interview, contact Philip Roybal at (408) 782-4244, or phil(at)maialearning(dot)com.