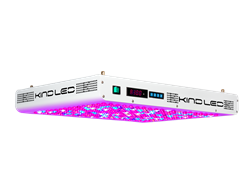 (PRWEB) November 12, 2015
Kind LED grow lights are a major player in the lighting sector of the indoor growing industry. In addition to selling lights to indoor growers and taking on the led grow market by storm; Kind LED has also been creating win-win partnerships with their resellers and hydroponics store across the globe.
Kind LED is now on track to ship over 1000 display lights to hydroponic stores. What has this done for Kind LED grow lights? They have gained a large market share and exposed their premier brand of leds to the indoor growing community. Their goal is to have a Kind LED display light in every hydroponic store by the end of Q2 of 2016. This has helped Kind LED display the number one grow light in the world to novice indoor growers, as well as, experienced lifelong horticulturists.
In addition, having a Kind LED grow light on display helps show store owners and customers that Kind LED lives up to all the hype surrounding the two time award winning led grow lights. Customers can see the lights' intensity, control features and low emitting heat up close and personal. Stores can grow tomatoes, peppers, and flowering plants to show their customers why Kind LED grow lights have risen to the top in the indoor gardening industry. Customers who have to "see it to believe it" get the opportunity to do so with a Kind LED grow light display in a local hydroponic store. To find such a store, visit the Kind LED website and check out the store locator: http://kindledgrowlights.com/store-locator/