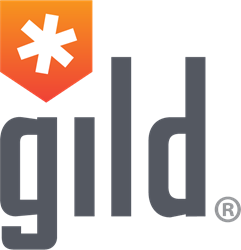 San Francisco, CA (PRWEB) November 11, 2015
Gild, the company that powers the way companies find, engage, and hire talent with data and intelligence, today announced that Gild executive, Brad Warga, will be speaking at the Argyle 2015 Human Capital Leadership Forum in Dallas, TX on Wednesday, November 18, 2015 at 1:45 PM Central Time. The panel will dissect how Human Resources (HR) departments can use technology to work more effectively and become a more strategic part of any company.
Tweet It: Check out @Gild's Brad Warga discuss how technology has revolutionized HR @ArgyleExecForum #HumanCapitalLeadershipForum2015
When: Wednesday, November 18 @ 1:45 PM Central Time
Where: Dallas, TX
Who:
● Brad Warga, Vice President of Sales, Gild
● Karen Thornton, Vice President of Human Resources of FTS International
● DeRetta Cole, PhD., Chief Human Resources Officer, YMCA of Metro Atlanta
● Russell Goin, Vice President of International and Corporate Human Resources, Rent-A-Center
What: Panel discussion, "The Technology Revolution of HR" – Come learn how cutting-edge technologies like data science and predictive analytics are helping modernize HR and align HR with business. These and other breakthroughs have enabled HR departments to track new metrics and measure success, as well as reduce costs and work more efficiently. As a result, the role of HR within a company is fundamentally changing and HR leaders have taken on a more influential voice in the advancement of the business. HR has become more strategic than ever before, and by leveraging new technologies appropriately, HR professionals can establish a far more powerful presence and clearer path for success. By getting tech-savvy, HR can accomplish things that were previously completely unprecedented.
About Gild
Gild is transforming the talent acquisition industry and fundamentally changing how the world hires. Fueled by data science, consumer-friendly technologies, and predictive analytics, Gild's smart hiring platform powers the way companies find, nurture, and hire talent across all industries and functions. Gild is used by growing companies to hire the talent they need to innovate and succeed—smarter and faster. Founded in 2011, Gild is headquartered in San Francisco, with offices in Salt Lake City and Milan.
About Argyle Executive Forum
Argyle Executive Forum offers events and access to professional development resources for an exclusive community of top-tier executives. Through engaging content and discussions, structured networking sessions, and online forums, Argyle provides opportunities for executives to find solutions to top of mind issues and develop relationships with their peers.