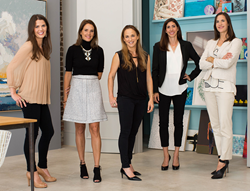 San Francisco, CA (PRWEB) November 11, 2015
Stephanie Breitbard Fine Arts is honored to debut their private gallery space in San Francisco's historic Jackson Square neighborhood. Located at 843 Montgomery Street, San Francisco, CA 94133, SBFA's appointment only gallery space offers an intimate setting in which to explore the gallery's selection of paintings, sculpture, photography, and mixed media works. SBFA's Evie Simon has been named the director of the Jackson Street location and oversaw the creation of the gallery's distinctive environment along with the interior designer.
Collaborating with Elizabeth Cooper Interior Design and Sutro Architects, SBFA has created a unique gallery experience, layering an eclectic mix of vintage and custom furniture, light fixtures, and home accessories to craft a beautiful yet comfortable space to display artwork that is reminiscent of a sophisticated, modern home. To honor the building's history, the team preserved the original brick walls and antique mirrored French doors.
A one-of-a-kind firm founded in 2007, SBFA bridges the gap between a traditional gallery, art consultant, and interior designer, offering clients a personalized approach to the acquisition of fine art. By showcasing works from over 100 local, national, and international artists in a constantly rotating group show, SBFA caters to a wide range of client interest and budgets. The gallery's appointment only policy allows each client to receive an individualized experience tailored to his or her interests.
"We are curating a home to be a reflection of a client's individual art tastes, personality, and how they imagine their space to look," founder and art consultant Stephanie Breitbard explains. SBFA's exclusive services include in-home evaluations and curation assistance, delivery, and installation. Every year, Stephanie and her associates travel to local open studios and international art fairs in a relentless pursuit of the latest talent, reviewing thousands of new artists.
About Stephanie Breitbard Fine Arts
Stephanie Breitbard Fine Arts is a private gallery and art consulting firm providing a unique, service-oriented experience for clients who want to acquire fine art. Established in 2007, SBFA blends traditional gallery-artist representation with in-home art consulting. SBFA specializes in contemporary fine art ranging from established artists to new, emerging talent. With two locations in San Francisco and Mill Valley, SBFA showcases the work from over 100 local, national, and international artists. For more information on arranging a tour the San Francisco gallery, please visit http://sbfinearts.com/ or contact info(at)sbfinearts(dot)com.