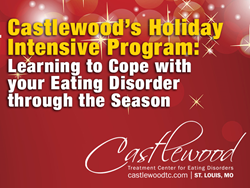 In an effort to provide extra support, Castlewood Treatment Centers, headquartered in St. Louis, developed a Holiday Intensive Eating Disorder Program
ST. LOUIS, Missouri (PRWEB) November 12, 2015
Some call it the Holiday Trifecta; others refer to it as the Bermuda Triangle of the Holidays. No matter the title, the months of November and December, which include at least three major holidays associated with festivities of eating and drinking, can create anxiety and despair for people with eating disorders.
In an effort to provide extra support, Castlewood Treatment Centers, headquartered in St. Louis, developed a Holiday Intensive Eating Disorder Program. The program also will be offered at Castlewood at The Highlands Treatment Center in Birmingham, Alabama, and Castlewood at Monarch Cove in Monterey, California. At each facility, Castlewood's highly trained professionals will work with individuals to determine the best possible program to help combat the stresses of the holiday season. The Holiday Intensive programs, which can include residential, day treatment, or intensive outpatient levels of care last a minimum of 14 days. Open to anyone 16 and older, the Holiday Intensives help guide the way through the social and domestic celebrations.
Families and friends often do not understand how stressful the holidays can be for a person with an eating disorder. Individuals often feel isolated and confused because they do not know how to take part in the food and feasting without undermining their recovery. They frequently avoid family gatherings for that reason. Therapists and dietitians provide support in meeting the challenges of food-laden gatherings by helping clients stabilize symptoms and by teaching ways to make healthy choices.
The holidays can also provide a great opportunity for those suffering with an eating disorder to seek treatment with minimal life disruptions. If you are in college, the semester break can be a great time to jump start your recovery and begin next semester on the path to a full recovery. If you are working, the end of the year can often mean time off or projects wrapping up that may have prohibited access to treatment in the past. This holiday season is a great time to give yourself the gift of eating disorder recovery.
Holidays can cause symptoms of eating disorders to flare. Depending on the disorder, the symptoms may differ. For example, anorexia symptoms include over-exercising, use of diet pills, excuses for not eating and weight loss. Those who struggle with Bulimia may experience increased binge behaviors, purging episodes, anger, mood swings, depression and self-criticism. Binge eaters may notice increased anxiety and depression, eating when not hungry and eating to the point of severe discomfort. Whatever the disorder and whatever the symptoms, the Castlewood staff will help design an individualized program to address each client's needs. The program is not restricted to those who have received previous treatment. Intake specialists at each location will help with identifying insurance coverage and will discuss self-pay options. Different housing opportunities also are available.
About Castlewood
Castlewood Treatment Center for Eating Disorders, with headquarters in St. Louis, also has locations in Monterey, California, and Birmingham, Alabama. Castlewood's multi-disciplinary approach to recovery includes nurses, dietitians, psychiatrists and therapists. By bringing a variety of skills to the treatment plan, Castlewood professionals assure each client of attention to specific needs. Individualized treatment plans are designed to help clients stabilize, discover the underlying causes of symptoms and pursue a plan of transformation. Families are included in the therapeutic process in order to provide the best possible support and to facilitate understanding of the family dynamics involved in eating disorder situations. Castlewood's comprehensive treatment includes after-care resources and alumni programs to provide ongoing support after residential treatment has been completed. Additional information about Castlewood can be obtained by visiting the website at http://www.castlewoodtc.com, or by calling (877) 937-8930.