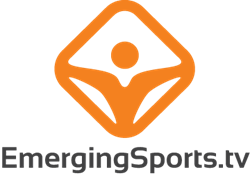 For years, some of the most dramatic moments in sport have been relegated to competitors' memories and, more recently YouTube videos. -- Dr. John G. Duesler, Jr. Principal, EmergingSports.tv
Phiadelphia, Pennsylvania (PRWEB) November 11, 2015
Today, Emerging Sports TV announces the nominees for the inaugural broadcast awards. Drawing from the events, sports, and athletes featured this season on Emerging Sports TV, nominees for Athlete of the Year, Sports of the year, Event of the Year, and Broadcast Moment of the Year have been named.
"We had the privilege to produce television programming from some of the sports' most iconic events, as well as its best kept secrets," explained Dr. John G. Duesler, Jr., Principal at Emerging Sports TV. "Our primary object during this, our first year of broadcasting, was to celebrate the amazing athlete, events, and sports that, together, make up this new category of sports broadcasting."
Throughout Emerging Sports TV's eight, one-hour episodes in 2015, sports as arcane as snow shoe racing, disc golf, and slacklining were bundled together with the well known Pikes Peak International Hill Climb and USA Curling Nationals to create programming from a wide array of sports. You can find a sampling by CLICKING HERE TO WATCH EPISODE 107.
"For years, some of the most dramatic moments in sport have been relegated to competitors' memories and, more recently YouTube videos," Duesler said. "But many of these national and world championship events have gained enough of a following and developed into well-run competitions, that they are now worthy of television broadcasting. All of the sports have dreamed of someday being on television, and we, at Emerging Sports TV, believe the time has come for that to happen."
With a rich list of accomplishments to choose from, the Emerging Sports TV principal has announced the award finalists in the following categories…
EMERGING SPORTS TV EVENT OF THE YEAR:

Slacklining at the GoPro Games (Vail, Colorado)
St. Jude Disc Golf Charity Invitational (Seaside, California)
La Ruta Adventure Race (Costa Rica)
National Collegiate Roller Hockey National Championships (Independence, Missouri)
EMERGING SPORTS TV ATHLETE OF THE YEAR:

Michael Maczynski, Goalie for the 2015 Collegiate Roller Hockey National Champion Neumann University
Erika Brown, skip of the 2015 USA Curling National Women's Open Champions
Paul McBeth, 4x Professional Disc Golf Association World Champion and No. 1 Ranked Player
Gordon Wadsworth, 2015NUE Series Winner and La Ruta Adventure Race Single Gear Champion
Felix Carierra, Slackline Industries No. 1 Ranked Slackliner and Multiple Event Champion in 2015
EMERGING SPORTST TV BROADCAST MOMENT OF THE YEAR:

John Shuster skips his rink to the 2015 USA Curling national championships after not being selected for the Olympic High Performance curling teams.
Rhys Millen wins the Pikes Peak overall championship, becoming the first to do it in an electric vehicle.
Scott Gall wins the 2015 US Snow Shoe National Championship after 10 tries and dedicates his win to his snowshoe mentor and friend who was killed in combat in Afghanistan.
Neumann University reclaims US Collegiate Roller Hockey National Championship from Lindenwood University, who won it beating Neumann the year before.
EMERGING SPORTS TV SPORT OF THE YEAR:

Slacklining
Disc Golf
Motor Sports Hill Climbing
Endurance Cycling
The Emerging Sports TV Award winner will be revealed during the season-ending episode, which is currently being aired on 23 regional cable sports affiliates around the nation and internationally. Combined, these affiliates reach 88.5 million subscriber households. Awardees will also be posted on the Emerging Sports TV web site on Monday, November 16, 2015.
Emerging Sports TV is a global media outlet for national and world championship sporting events that have developed enough to be broadcast-worthy. The sports are drawn primarily from four categories: outdoor sports; water sports; winter sports; and motor sports. Emerging Sports TV is distributed to 23+ regional sports cable television affiliates, which comprise 88.5 million household subscribers. The show is also distributed on its digital platform on http://emergingsports.tv, as well as a number of social media outlets. For more information about including your sport in our series, becoming an advertiser, or elevating your brand as one of our broadcast partners, contact Dr. John G. Duelser, Jr., Principal at 215-913-0569 or jgd(at)emergingsports(dot)tv.