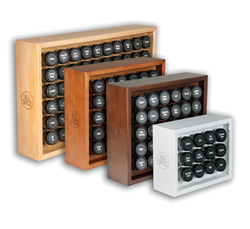 "We have created spice storage worthy of a chef's kitchen at home."
Madison, WI (PRWEB) November 17, 2015
With the success of the flagship AllSpice 60-jar spice rack, HausLogic is announcing an October product release including 30-jar and 12-jar models. In addition to the natural, cherry, and walnut stain options, AllSpice racks are now available in painted white.
HausLogic launched in April of 2015 with their top-of-the-line 60-jar AllSpice spice rack. The AllSpice rack is the first spice rack designed with the serious home cook in mind. The efficient AllSpice design eliminates the need for piles of spice bags and containers that take up valuable kitchen storage space. The AllSpice rack system takes up a mere 4.5" at the back of the countertop. The compact design leaves countertops free of obstructions and ready for chopping, mixing, and whatever else needs to be done. Unlike most available spice racks that use a smaller jar, the AllSpice rack is designed around the 4-ounce glass spice jars preferred by specialty spice purveyors.
After strong initial demand for their 60-jar rack, HausLogic began to get requests for smaller racks. "We initially thought there was too much competition in smaller racks," said Max Osterhaus, designer of the AllSpice rack. "But, people love the design so much that they want it even if they don't use 60 spices." While designing the AllSpice rack, Osterhaus realized that there were no companies who were seriously focused on spice storage. He set out to create the world's best spice rack and the only brand dedicated to offering quality spice storage that would meet the demands of every discerning cook and fit the unique configuration of every kitchen. With the addition of 30-jar and 12-jar sizes and the painted white option, he is making strides toward that goal. "There are countless companies making professional grade kitchen products for the home, and yet, spice storage options were all cheap and poorly designed," says Osterhaus. "We have created spice storage worthy of a chef's kitchen at home."
AllSpice spice racks are available from Amazon.com, http://www.allspicespicerack.com, and through selected spice shops and kitchenware retailers. Retail: 60-jar - $220, 30-jar - $160, 12-jar - $85.