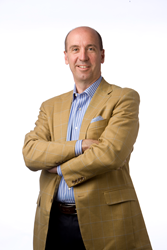 Buckle up because the future is about to expand in a million, a billion and a trillion different directions
Chattanooga, TN (PRWEB) November 12, 2015
If something doubles just ten times it is one thousand (1024 times to precise) larger. This is an important concept to grasp, says futurist Jack Uldrich, "If businesses want to better contemplate the future, this concept is crucial."
"Why?" asks Uldrich, "Because no fewer than nine technological trends—semiconductors, data storage, bandwidth, genomics, gene sequencing, robotics, nanotechnology, brain scanning and scientific knowledge—are doubling anywhere from every 6 to 18 months."
On November 18th leading futurist and best selling author Jack Uldrich will deliver the keynote for the Chattanooga Chamber of Commerce's Sprit of Innovation Awards Luncheon, Chattanooga, TN. He will deliver his presentation, "Exponential Technologies to Exponential Innovation."
One example Uldrich sites is genomic testing. He says, "If gene sequencing equipment can today translate one billion sequences every few hours (at an estimated cost of $20,000) but the technology is doubling year year, this implies one trillion genes will be translated an hour by 2020. If this comes to pass, sequencing genomes will not only take minutes, it will cost pennies on the dollar. Such a change could radically transform how diseases are treated. It will have profound implications for both the health care and the pharmaceutical industries."
Another way to put it says Uldrich is, "A million, a billion and a trillion might not seem that different (perhaps because they rhyme) but here's one way to think of the change coming our way: One million seconds was 12 days ago; One billion seconds was 32 years ago; One trillion seconds takes us back to the year 30,000 B.C."
Uldrich's advice? "Buckle up because the future is about to expand in a million, a billion and a trillion different directions."
Parties interested in more information on Jack Uldrich and his speaking engagements and availability are encouraged to view his website.