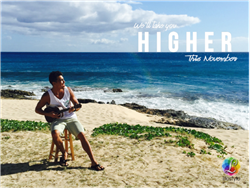 In every corner of the world, we continue to discover thought-leaders, artists, innovators, and iconoclasts that not only shape our global culture, but also give pride to their Filipino roots.
Redwood City, Calif. (PRWEB) November 11, 2015
Lifestyle Network debuts another original production with its first official music video, "Higher" by island pop musician Kolohe Kai. The single was yet another hit of the singer-songwriter prodigy, and continues to soar on island reggae and pop airwaves as one of the year's hottest tracks. The official music video for "Higher" debuts on November 14th, worldwide, on Lifestyle Network.
"I'm excited to release this video for the fans and for them to get a taste of what joy the ocean can bring us," said Roman DePeralta, also known as Kolohe Kai.
DePeralta's musical career skyrocketed, following a statewide win at a musical competition. With the debut of "Ehu Girl" on the radio in September 2009, Kolohe Kai became an overnight sensation, creating music that would redefine island reggae. "Higher" is his latest single that was released in May 2015.
"In every corner of the world, we continue to discover thought-leaders, artists, innovators, and iconoclasts that not only shape our global culture, but also give pride to their Filipino roots," said Aileen Paredes, Channel Head for Lifestyle Network Global. "It is the network's honor to have created the original music video for Kolohe Kai, a musical treasure of Hawaii, and innovator of sound."
To learn more about Lifestyle Network and to explore its programming and subscription options, visit http://lifestylenetwork.tv/
##
About Lifestyle Network:
Lifestyle Network is a living and travel TV guide that fulfills the lifestyle needs of modern Filipinos around the globe. A TFC premium channel, Lifestyle Network's programming is a unique combination of original and acquired shows airing 24/7 in English. Broadcast in the United States, Canada, Australia, New Zealand, and Europe, it is available through satellite, cable, and video on demand platforms. Based in Redwood City, California, the channel is owned by ABS-CBN International, a subsidiary of ABS-CBN Corporation - the Philippines' largest entertainment and broadcasting company, through ABS-CBN Corporation's wholly-owned subsidiary, ABS-CBN Global Hungary Kft. To find Lifestyle Network in your area and for exclusive content online, visit http://lifestylenetwork.tv/