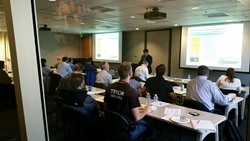 I enjoyed learning about the pipeline conference and meeting new folks from the industry.
Alameda, CA (PRWEB) November 14, 2015
Trenchless Pipe Bursting manufacturer, TRIC Tools, participated in its first Northern California Pipe Users Group meeting on November 10th in Walnut Creek, CA. Sales Engineer Brennan Lunzer and Operations Director Michael Lien represented TRIC Tools at the meeting hosted by Brown & Caldwell. The Northern California Pipe User's Group (PUG) is a Forum of Collection System Owners, Engineers, and Industry Professionals dedicated to discussing and evaluating rehabilitation options and methods, improving the design, construction, and operation of sewer and water systems, and pooling its members resources. For more information about PUG, you can go to their website http://www.norcalpug.com.
East Bay Municipal Utility District's (EMUD) Roberts McMullin hosted the Forum. Roberts reviewed September's presentation of "Go Ahead and Replace My Backyard Sewer" with Horizontal Direction Drilling (HDD). Both projects were evaluated based upon costs with the main goal of getting the sewers out of homeowners back yards. Upon completion of the three phases nearly 7,000 linear feet of new mains will be installed and 205 laterals will have been relocated. To date Ranger Pipelines has completed two of the three phases. The pilot projects took place in Newark and Yuba City, CA.
Sacramento Area Sewer District's Bill Chavez, Oro Loma Sanitary Sewer District's Jimmy Dang, and CDM Smith's Bob Allen also presented at the Forum. ASCE's 2015 Pipelines Conference hosted in Baltimore, MD was also discussed. Looking forward PUG will host its 24th Annual Sharing Technology Conference at Hs. Lordships in the Berkeley Marina. The event will take place February 18th starting at 8:30 am, the keynote speaker will be California's Rural Affairs Officer and Drought Liaison, Debbie Davis.
Brennan Lunzer remarked, "I enjoyed learning about the pipeline conference and meeting new folks from the industry." There were approximately 35 people in attendance, ranging from industry engineers, local city sanitation engineers and area pipe, fittings and equipment suppliers. It was a great event and allows local companies to share information from national conferences. TRIC enjoyed participating in the conference and look forward to presenting a special pipe bursting project in the future.
TRIC invented and patented the first Lateral Pipe Bursting System while simultaneously gaining national approval of HDPE pipe for its use, thus opening the market for trenchless home sewer replacement in America.
For more information about Trenchless Pipe Bursting equipment or the Trenchless Industry in general - please call 888-883-8742 or visit TRIC's website at http://www.trictrenchless.com to see how they can answer any of these questions for you. Get your Trenchless Sewer and Water Replacement service off on the right foot, one lateral at a time.