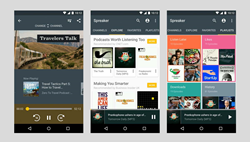 "With more and more podcasts becoming available every day, discoverability has become a key issue."
San Francisco, California (PRWEB) November 11, 2015
Spreaker, the leading podcasting and live audio streaming platform, today announced the Spreaker Podcast Radio app for Android phones and tablets. The mobile application provides curated content discovery and a simple listening experience for the underserved podcast market on Android. Spreaker Podcast Radio is free in the Google Play Store now, and the app will be available for iOS in the Spring of 2016.
"With more and more podcasts becoming available every day, discoverability has become a key issue," said Francesco Baschieri, Spreaker Founder and CEO. Spreaker Podcast Radio offers themed lists, playlists and channels curated by its editorial team and other media brands, radio and podcast networks.The company is also partnering with tens of thousands of hosted and pass-through shows not hosted on Spreaker to grow its selection of popular new podcasts.
The app enables listeners to build their own playlist of show episodes that are just one play button click away. Spreaker's Main New Channel feature introduces a radio-like experience with regular episodes updates from the popular podcast shows.
Other app features include:

Search through recommended list by media partners
Create custom playlists of episodes from user favorited shows
Listen offline.
Listen to all shows created with Spreaker Studio, including live shows
Comment and chat with other users and hosts
The new Spreaker Podcast Radio App is available for download now in the Google Play Store. https://play.google.com/store/apps/details?id=com.spreaker.android
Learn more https://www.spreaker.com/download/spreaker-podcast-radio
About Spreaker
Spreaker is a fast growing audio publishing and distribution platform that makes it easy to create or discover podcasts and live audio shows. Spreaker is the largest podcast creation and hosting platform, offering free and robust applications that empower all levels of content creators to create and publish audio shows from any computer, tablet or mobile phone. Spreaker has offices in San Francisco, Seattle and Berlin. To learn more about Spreaker, please visit http://www.spreaker.com - http://www.facebook.com/spreaker.
Media Contact: Juliette Bouquerel - 415 215 3911 - juliette(at)spreaker(dot)com.