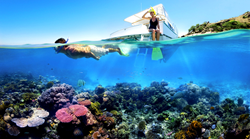 A happy, peaceful country is an attractive country
San Ignacio, Belize (PRWEB) November 13, 2015
Belize's recent national elections highlight the nation's reputation as one of the most stable democracies in the western hemisphere; a reputation that continues to contribute to the nation's growing eco-tourism industry, according to The Lodge at Chaa Creek.
Chaa Creek co-owner and GM Lucy Fleming, who is also a past president of the Belize Tourism Industry Association, made the statements after Dean Barrow was sworn in to a record third consecutive term as Belize's Prime Minister on November 5 2015.
"Belize is blessed with stunning scenery, a friendly English speaking population, near perfect weather and an abundance of attractions, natural and built. Travellers also want to feel safe when overseas, and having a strong, functioning democracy where the rule of law prevails is another important consideration for most travellers," Ms Fleming said.
Ms Fleming remarked that in the 34 years since Belize achieved independence from Great Britain and transitioned from an agrarian based economy to one driven by a flourishing tourism industry, the nation has enjoyed major advances in job growth, infrastructure and quality of life.
"A happy, peaceful country is an attractive country, and this has been borne out in the phenomenal growth our tourism industry has seen since independence in 1981. When people travel overseas they want to feel secure. The fact that Belize is English speaking with a currency pegged to the US dollar creates a sense of familiarity while the beautifully diverse landscapes, multicultural population and abundance of ancient Maya temples and archaeological sites ensure unique, exotic experiences.
"This combination of the familiar and the exotic gives travellers the best of two worlds," she said.
Belize, a former British Crown Colony, has a government based on the British parliamentary system. As with countries such as Australia, Canada and other members of the Commonwealth, Queen Elizabeth II is the symbolic head of state, while the 31 members of the House of Representatives and Prime Minister are elected. The country is a member of the United Nations and enjoys a close relationship with the United States, working together in areas such as border protection and global security.
"As Thanksgiving approaches, we're reminded to count our blessings here in Belize. Along with abundant natural beauty, social harmony, a lovely long Caribbean coastline protected by the world's second largest barrier reef, rich, fertile land and huge tracts of protected wilderness, we can also add a stable democracy supported by an educated populace.
"These are all things we enjoy sharing with the rest of the world, and that in turn bolsters our tourism industry and contributes to a high quality of life," Ms Fleming said.
The Lodge at Chaa Creek is a multi award winning eco resort set within a 365-acre private nature reserve along the banks of the Macal River in Belize.
ENDS