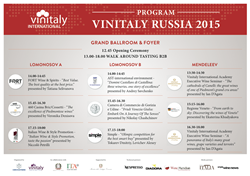 The fact that Russia is now facing some difficulties is not a good reason to abandon the ship. Of course it is not easy, but its one of the many challenges that a company has to face
Verona, Italy (PRWEB) November 11, 2015
As the Russian crisis continues, Italian wine producers are getting ready to take part in the 12th edition of Vinitaly Russia, to be held in Moscow on the 16th of November. For the occasion, Vinitaly International has renewed its commitment to education by organizing a wide range of initiatives aimed at promoting Italian wine in such a difficult but promising market.
Russia is experiencing an undeniable moment of crisis. The financial sanctions imposed by western countries and embargos for certain products have created a difficult economic situation, seen above all in the devaluation of the rouble. This has inevitably taken a toll on Italian wine imports: during the course of the past months, on the one hand wine portfolios have had to be realigned with an eye to high-margin and less expensive wines. On the other, producers, and especially medium-to-small sized wineries, have had to agree to suspended payments and offer deeper discounts. Nonetheless, Italian wine producers are not ready to through in the sponge just yet:
"We decided to invest in Russia conscious of the fact that each international market has its risks. The Russian market is very dynamic and the situation can rapidly change, mature and evolve. And when it happens we want to be ready" explains Clementina Cossetti of Cossetti winery from Piedmont.
"As a family-run winery we are able to take a medium-to-long term view and the fact that Russia is now facing some difficulties is not a good reason to abandon the ship. Of course it is not easy, but its one of the many challenges that a company has to face" says Gianluca Viberti of 460 Casina Bric who, together with Cossetti winery, has decided to also hold a Masterclass during Vnitaly Russia: "In a country such as Russia where wine consumption trends are slowly evolving, it is of great importance that locals can get to know the single types of wines as well as the brand itself. I think that by presenting our Barolos during the Masterclass, we will be indirectly offering great visibility also to the denomination".
The Masterclass "The excellence of Piedmontese wines" will be one of the seven sessions organized by Vinitaly International as part of its vast educational program for this 12th edition of Vinitaly Russia that today remains the most important event in the country to be entirely dedicated to Italian wine. Last year's edition hosted, in a single day, more than 1600 professionals and a record number of 1700 wines from all regions of Italy.
Set once again in the exclusive location of Swissotel Krasnye Kholmy, Vinitaly Russia will be presenting its traditional afternoon Walk Around Tasting confirming its collaboration with some of the biggest names in the Russian import scenario such as Simple, Fort, Ast-international Environment, DP-TRADE, MBG and Millenium. Old acquaintances will be joined by two new entries, Winedom and Noble House, who will offer a broader choice to small-to-medium sized wineries wanting to penetrate the Russian market.
The educational program will be further enriched by two Executive Wine Seminars of the Vinitaly International Academy where Scientific Director, Ian D'Agata, will be supported for the very first time by Veronica Denisova and Nikolay Chashchinov, the first two VIA Italian Wine Ambassadors from Russia who will also be re-sitting the VIA Certification Course Exam in order to improve their previous score and perhaps become the first Italian Wine Experts.
The first Seminar, "The cathedrals of Canelli: the great wines of one of Piedmont's grand cru areas", will offer, in collaboration with local importers, an overview of Italian wines from Piedmont, whilst the second, "A panorama of Italy's many great wines, grape varieties and terroirs", will be entirely dedicated to Italian sparkling wines, particularly appreciated by Russian consumers.
Participation in the Executive Wine Seminars will also translate into a unique opportunity for all those who wish to prepare for the second edition of the VIA Certification Course to be held from the 4th to the 8th of April 2016.
Applications are now open and can be sent at http://www.vinitalyinternational.com/certification-course-application-form
Throughout the event, it will be possible to drink a cup of real Italian coffee thanks to the invaluable support of Nespresso, that from 1996 offers professional solutions to meet the needs of the clientele of the best hotels and restaurants in the world.
Vinitaly International would also like to thank its Media Partners, Buona Italia and Simple Wine News as well as our Technical Partners Diadora and WineMeridian for their invaluable support.
To register to the event please go to http://www.eventbrite.it/e/vinitaly-2015-tickets-19012102711?ref=ebtn
For more information: Russia(at)vinitalytour(dot)com
About:
Veronafiere is the leading organizer of trade shows in Italy including Vinitaly (http://www.vinitaly.com), the largest wine and spirits fair in the world. During its 49th edition Vinitaly counted some 4.000 exhibitors on a 100.000 square meter area and 150.000 visitors including more than 2.600 journalists from 46 different countries. The next edition of the fair will take place on 10 - 13 April 2016.
The premier event to Vinitaly, OperaWine (http://www.vinitalyinternational.com) "Finest Italian Wines: 100 Great Producers," will unite international wine professionals on April 9th in the heart of Verona, offering them the unique opportunity to discover and taste the wines of the 100 Best Italian Producers, as selected by Wine Spectator. Since 1998 Vinitaly International travels to several countries such as Russia, China, USA and Hong Kong thanks to its strategic arm abroad, Vinitaly International. In February 2014 Vinitaly International launched an educational project, the Vinitaly International Academy (VIA) with the aim of divulging and broadcasting the excellence and diversity of Italian wine around the globe. VIA has now also created its very first Certification Course with the aim of creating new Ambassadors of Italian Wine in the World.
###