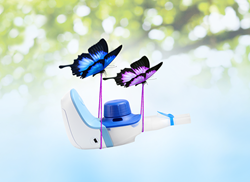 VELOX enables shorter therapy times and mobile, low-noise utilisation
(PRWEB UK) 16 November 2015
On the heels of its VELOX product launch, PARI, provider of state-of-the-art products for improved respiratory care worldwide, is proud to announce its recognition as a 2015 German Design Award winner. The VELOX, PARI's latest innovation in nebuliser therapy, was selected by the German Design Council for Excellent Product Design in the "Industry, Materials and Health Care" award category.
Offering class-leading performance in the treatment of lung conditions such as Chronic Obstructive Pulmonary Disease (COPD) and Asthma, one of the VELOX nebuliser's key innovations lies in its mobile design, which allows those undergoing nebuliser therapy increased freedom and peace of mind. The German Design Council has hailed the device's aesthetics and functionality, applauding its easy handling.
"The appliances' ergonomics have been coherently aligned with the target groups' needs, supporting intuitive use and excluding errors," according to German Design Award judges. "VELOX enables shorter therapy times and mobile, low-noise utilisation."
The VELOX uses vibrating membrane technology to deliver medication more efficiently than other hand-held nebulisers, resulting in shorter treatment times. Perhaps best of all, the device comes equipped with both a multi-voltage power adapter and battery operation, enabling users to gain more day-to-day flexibility with the option for easy portability.
Based on high-performance technology, the VELOX offers:

Incredibly quiet operation for discreet use
Total mobility – can be used from batteries or mains
Easy handling and cleaning
Fast treatment times
Proven efficiency
Peace of mind from PARI
For full product details, please visit PARI's new website at http://www.pari.com/uk/velox, email infouk(at)pari.eu or call PARI at 01932 341122. PARI's UK office is located at:
PARI Medical Ltd.
The Old Sorting Office
Rosemount Avenue, West Byfleet
Surrey, KT14 6LB, United Kingdom
About PARI:
For over a century, PARI has led the way in developing innovative, trusted respiratory solutions and has an international reputation as a specialist in the treatment of respiratory diseases. PARI's mission is to improve the lives of those affected by respiratory diseases and those who provide care to them. Representing the GOLD Standard in nebuliser therapy for over 100 years, PARI aims to provide quality you can rely on.