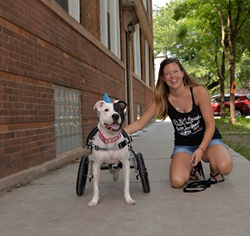 This is my life's work, and I hope to use this platform to further improve the lives of pets in need.
Newtown Square, PA (PRWEB) November 11, 2015
Wagging tails are making the Windy City a little more so today: that's because Petplan pet insurance has named Chicago's own Erin Kowalski its 2016 Pet Parent of the Year!
The annual award honors a special pet parent who demonstrates an extraordinary commitment to advocating for pet health. Erin's commitment is nothing short of extraordinary: she has opened her home (and heart) to an astonishing 77 foster dogs over the last eight years.
Erin found her calling while volunteering at Chicagoland animal rescues. She has since founded the Lucida Puppy Fund, which helps pay the high veterinary costs of puppies awaiting adoption, and Bialy's Wellness Foundation, which supports families who have animals with special needs.
The groups memorialize dogs Erin fostered who crossed the rainbow bridge far too soon.
Erin's dedication has also led to a career in pet health: she is a Nationally Certified Canine Massage Therapist, Master Reiki Practitioner and Pet Tech Certified in Pet First Aid & CPR. She also founded Aura Natural Pet, which provides in-home canine massage therapy services in Chicago.
"I am grateful and absolutely honored for this recognition. This is my life's work, and I hope to use this platform to further improve the lives of pets in need," says Kowalski.
Petplan co-founder and co-CEO Natasha Ashton adds, "Ms. Kowalski's nomination praised her 'strong and heartfelt' compassion for animals with special needs, particularly those who have suffered abuse. That was overwhelmingly evident to the judges, and I congratulate her on a well-deserved win!"
Erin's nomination was among more than 4,800 considered for the annual Petplan Veterinary Awards. She will receive a prize package that includes a trip to the Veterinary Awards Dinner in Orlando, a $1,000 cash prize, a $1,000 donation to the animal-related charity of her choice and an editorial feature in fetch! magazine.
To learn more about Petplan's Veterinary Awards, please visit http://www.GoPetplan.com/Vet-Awards.
ABOUT PETPLAN
Petplan is more than a pet insurance provider. We're dedicated to providing pet parents with the support, resources and tools they need to keep their pets not just surviving—but thriving—into their old age. Simply put, we aim to be the kind of company that will make our pets proud. For the third consecutive year, Petplan was listed among the top 50 companies on Forbes' annual ranking of America's Most Promising Companies – a list of 100 privately held, high-growth companies with bright futures. Petplan is the only pet insurance provider to have been included on Inc. Magazine's list of 500 fastest-growing, privately held companies in America.
Petplan's fully customizable cat and dog insurance policies provide comprehensive coverage for all hereditary and chronic conditions for the life of the pet as standard. Petplan policies are underwritten by AGCS Marine Insurance Company in the U.S. and by Allianz Global Risks US Insurance Company in Canada. The Allianz Group was rated A+ by A.M. Best in 2014. For more information about Petplan pet insurance, visit http://www.petplan.com or call 1-866-467-3875.
ABOUT PETPLAN'S VETERINARY AWARDS
Now in its fifth year, the Petplan Veterinary Awards honor the important work of North America's veterinary professionals who go above and beyond, providing pets with exceptional care and clients with exceptional customer service. Petplan is proud to carry on the tradition of rewarding excellence in veterinary medicine fostered by our sister company, Petplan UK, whose own Vet Awards are Britain's pre-eminent industry celebration. For more information about Petplan's Veterinary Awards, please visit http://www.GoPetplan.com/Vet-Awards.