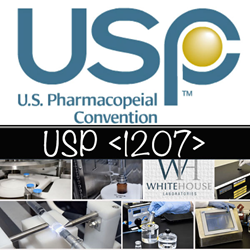 Emphasizing the necessity for proper test method selection, development, and validation specific to each product-package system
(PRWEB) November 12, 2015
Whitehouse Laboratories is pleased to share that the pending revisions to the United States Pharmacopoeia (USP) general chapter 1207 have been approved and will appear in the First Supplement to USP 39-NF 34 at the beginning of 2016, becoming effective in August 2016. USP chapter 1207 is dedicated to describing the need, theory, and approaches to container closure integrity evaluation of sterile product-packaging systems. The proposed revisions originally appeared in the September/October 2014 USP Pharmacopeial Forum for public comment, with the received comments resulting in modifications to the final text. This guidance chapter will be referenced as the global standard for integrity evaluation of parenteral packaging systems, and Whitehouse Laboratories is pleased to be at the frontline of its application with the end goal of delivering safer products to consumers.
The purpose of a pharmaceutical packaging system is to fully contain the product, while also inhibiting ingress of environmental contaminants that may compromise product stability, such as microbial organisms and/or reactive gases. Dye ingress and microbial immersion challenge studies have historically been employed for the verification of pharmaceutical package integrity. Over time, however, these approaches have proved to be insufficiently sensitive as a result of their probabilistic nature, in which leak detection is reliant on a chain of unreliable events. The revised USP 1207 chapter defines the differences between probabilistic and the much preferred deterministic leak test methods, which operate based on predictable physicochemical phenomena and are therefore ideal for conclusive integrity evaluation.
"One of the many notable contributions of the revised chapter is the concept of confirming container closure integrity throughout a product's life cycle beginning from the demonstration of the inherent integrity of a package system through commercial product shelf-life stability," says Justine Young, Associate Director of Container Qualification and CCIT. "The revisions will ultimately expand the chapter to four subsections, defining integrity evaluation as an analytical method and emphasizing the necessity for proper test method selection, development, and validation specific to each product-package system," adds Brandon Zurawlow, Associate Director of Container Qualification and CCIT.
A leader in offering container closure integrity test method development and validation services for the past eight years, Whitehouse Labs is pleased to maintain excellence in the application of the deterministic leak test method technologies to meet our clients parenteral packaging needs and current regulatory requirements. Whitehouse Labs offers complete method development and validation programs and supports routine testing as part of investigations or stability programs. With all major leak test technologies listed in 1207 under one roof, the expert staff at Whitehouse Labs is equipped to handle an array product-package configurations.
For more information about container closure integrity testing, please visit whitehouselabs.com/blogs.
About Whitehouse Laboratories
The Testing Partner to Life Sciences, Whitehouse Labs is an independent contract testing lab that is FDA regulated, DEA Licensed, ISO 17025 and ISTA certified offering testing services for the pharmaceutical, medical device, personal care, and consumer product industries. Whitehouse Laboratories offers comprehensive analytical services for materials, finished products, as well as container and package systems, which enable our clients to meet and exceed the required quality standards established by the key regulatory agencies.
Visit our website at http://www.whitehouselabs.com, find us on Facebook or follow us on Twitter.