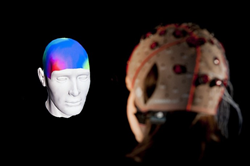 Which of these technologies will deliver the most value, and in what context? How will innovative assessments and therapies be validated, adopted, regulated and commercialized?
San Francisco, CA (PRWEB) November 11, 2015
30,000+ scientists and professionals gathered for the annual Society for Neuroscience conference in Chicago last month, proving the growing interest and activities to better understand the inner workings of the human brain, and to discover ways and technologies to enhance its health and performance.
Now, which of all those ongoing efforts are closer to touching our lives, to empower consumers, patients and health professionals?
To answer that question, market research firm SharpBrains recently examined the worldwide landscape of non-invasive neurotechnology patents, given that investment in intellectual property is a crucial signal in the life-cycle of technology commercialization.
Through their year-long analysis of thousands of patents, SharpBrains uncovered ten innovative brain health and brain enhancement systems on the cutting edge, that, in their estimation, are likely to go mainstream over the next few years.
10 Neurotechnologies About to Transform Brain Enhancement and Brain Health
(Link includes specific patents and images per technology class)
1. Big Data-enhanced diagnostics and treatments
As the costs of computing power, cloud accessibility and hardware sensors dwindle, brain health systems can leverage measurements taken from a far broader swath of the population than ever before possible. And this analysis helps understand precisely where an individual's readings lie on the distribution curve of health to disease, drives the ability to understand with nuance how one's readings changes over time, and allows better discernment of proper diagnoses and treatments based on the efficacy of treatments with others having similar brain signatures.
Companies like CNS Response and Advanced Brain Monitoring are already deploying systems that harness the power of big data, exemplified by neurometrics-driven report systems such as in the image to the right.
2. Brain-Computer Interfaces for device control
Brain Computer Interfaces (BCIs) link the commands of our thoughts to the devices of the world. The global BCI market is expected to reach 1.5 billion by 2020, of which 85% is estimated to be non-invasive.
Companies like Emotiv and NeuroSky are advancing the state of BCI technology, while other organizations are developing the external systems and ecosystems to interact with BCIs. Phillips has patents describing home medical systems that remotely monitor health via EEG, helping patients suffering from ALS (commonly known as Lou Gehrig's disease), for example, to control home appliances via BCIs.
3. Real-time neuromonitoring (plus robotic aids)
A good number of companies, including Medtronic, Neuropace and St. Jude Medical, are developing systems to actively monitor brain activity and respond in real-time with appropriate treatments.
These systems can discern symptoms leading up to an undesirable brain event (such as a seizure), and provide pre-emptive treatments to mitigate or altogether thwart epileptic activity. Some monitoring systems are coupled with other assistive devices, such as robotic aids to enable patients suffering from neurological disorders (such as ALS) to regain lost motor control.
4. Neurosensor-based vehicle operator systems
Systems employing neural detection devices to monitor vehicle operator alertness (or a lackthereof) and take preventative measures with driver stimulation or vehicle autopilot/ shutdown systems are described by multiple patents.
Whether due to inattentiveness (for example texting while driving) or drowsiness, new vehicle-integrated systems can assess real-time operator fitness. The US Army, automotive companies like Toyota, start-ups like Freer Logic, medical device makers and insurers are all patenting inventions addressing this concern.
5. Cognitive training videogames
Software applications accessible online and via mobile devices include gaming systems that target specific cognitive and/or emotional systems of the brain.
Companies like Posit Science and Lumos Labs have secured patent protection (and significant market traction) on products in this area. A patent recently issued to Lumos Labs for enhancing fluid intelligence and working memory through mental manipulation of memorized objects is illustrative.
6. Brain-responsive computing systems
As Microsoft CEO Sataya Nadella states, "We are moving from a world where computing power was scarce to a place where it now is most limitless, and where the true scarce commodity is increasingly human attention."
A recent study by Microsoft finds that 68% of early tech adopters and 67% of heavy social media users really have to concentrate hard to stay focused on tasks. So large tech companies are patenting systems to improve productivity and worker output, for example by using EEG signals to recognize user's mental state and tailor the computing experience.
7. Virtual Reality treatments, especially in conjunction with EEG and/ or tDCS
Whether for treating PTSD and phobias through exposure therapy, or assisting surgeons in the operating room, virtual-reality is quickly gaining momentum.
Medical tech companies such as Medtronic and Brainlab, and consumer research firms such as Nielsen are building significant IP portfolios in the area. The following patent by Evoke Neuroscience shows the interplay between virtual reality, EEG and transcranial direct current stimulation (tDCS).
8. "Mindful" wearables
Wearables are being designed to improve not just physical health but mental well-being as well. Meditation apps in tandem with consumer EEGs like InteraXon's Muse aim to help users build concentration and self-regulation skills.
Even general-purpose fitness wearables are starting to include mental health and training applications. Jawbone (through its subsidiary BodyMedia) has secured patents that consider physiological and contextual factors.
9. Collaborative cognitive simulations
These are systems that focus on improving learning and skill acquisition across the extended workforce through online interactive platforms and cognitive simulation models. Human capital-intensive organizations such as AT&T and Accenture, and start-ups such as Applied Cognitive Engineering, are developing multiple applications in the area, and securing relevant intellectual property rights.
10. Electrical and magnetic brain stimulation
These are technologies that can influence brain activity via magnetic fields or electrical impulses, and they are becoming increasingly common. Multiple hospitals and clinics already offer treatments based on brain stimulation, DARPA has awarded contracts to develop systems to augment memory with targeted electrical stimulation techniques, and consumers can buy wearable devices claiming to induce an array of brain states from calming to energizing.
Companies pushing the boundaries of brain stimulation technology include Thync, St. Jude Medical, Brainlab and Neuronetics.
Now that we have reviewed some of the exciting neurotechnologies ahead, we need to step back for a second. Which of these technologies will deliver the most value, and in what context? How will innovative assessments and therapies be validated, adopted, regulated and commercialized? How do we maximize the benefits and minimize the risks?
Those questions constitute, in essence, the Agenda for the 2015 SharpBrains Virtual Summit taking place next week, where over 200 pioneers and experts will gather around a virtual table to discuss the latest, the next, and how to harness it all to improve work and life.
Summit Sponsors include: The AAA Foundation for Traffic Safety, The Alzheimer's Research and Prevention Foundation (ARPF), The Arrowsmith Program, Baycrest, Cognifit, Digital Artefacts, Lumosity, Peak, Rosetta Stone, and Posit Science.
About SharpBrains:
SharpBrains is an independent market research firm tracking health and well-being applications of brain science, with special emphasis on non-invasive neurotechnology and the growing needs of an aging population. The company maintains a biannual state-of-the market report series, produces an annual global and virtual professional conference, and maintains a consumer-facing guide, The SharpBrains Guide to Brain Fitness. Learn more at SharpBrains.com