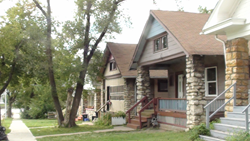 "It's my goal to help alleviate security concerns and spur reinvestment by making the VP Smart Tower and by offering it for free to a nonprofit that is making a tremendous impact," said Geoff Miles, COPR Security President and Founder.
(PRWEB) November 12, 2015
Today, COPR Security Solutions, the world's first cause-driven security company, launched an Indiegogo Campaign that will catapult the production of the VP Smart Tower and set aside $15,000 each for Habitat for Humanity Detroit and the Historic Manheim Park Association (Manheim Park) in Kansas City, MO, in the form of security equipment, monitoring services and other in-kind donations taken from the proceeds of the campaign. These donations will be put to good use securing vacant homes, stopping the spread of blight and restoring community.
COPR Security Innovations specializes in protecting and maintaining vacant properties nationwide. The new VP Smart Tower is a wireless, automated, security system.
The VP Smart Tower is an easily collapsible and transportable security system that can be moved it from place to place, no complicated installation or long-term contract required. VP Smart Tower users can monitor properties from an online dashboard at any time, receive fire and severe weather alerts and, in the case of a break-in, the system will immediately send images to a Central Monitoring Station, activating a response from the necessary authorities.
A successful Indiegogo launch that hits COPR's minimum target of $100,000 will facilitate the production of the first line of VP Smart Towers, with $15,000 set aside for each of the non-profit partners - Habitat for Humanity Detroit and Manheim Park - to be paid out in in-kind donations of security equipment and monitoring services. Depending on their donation level, contributors to the Indiegogo Campaign will be eligible for security equipment at a dramatically reduced cost and a number of perks, all while supporting housing nonprofits in hard hit cities.
"The presence of vacant, blighted buildings has resounding impacts for the entire community – from health and safety issues to disinvestment in our neighborhoods," said COPR Security Innovations President and Founder Geoff Miles. "At the heart of these challenges is security. It's my goal to help alleviate security concerns and spur reinvestment by making the VP Smart Tower and by offering it for free to a nonprofit that is making a tremendous impact."
COPR Security Innovations reached out to Habitat for Humanity Detroit because this organization not only has made a commitment to renovate homes in their community, but also provides access to a plethora of gently used materials such as sinks, cabinets, windows and doors through ReStore, which encourages reinvestment.
"We are grateful to partner with COPR Security Innovations on the launch of the VP Smart Tower," said Tara Franey, Interim Executive Director at Habitat for Humanity Detroit. "A comprehensive security system is essential to protecting the houses we have under construction and will also help to deter other criminal activity in the neighborhood."
The presence of vacant properties in a community often creates a domino effect, discouraging investment and spreading blight. The Manheim Park neighborhood is located not far from COPR Security Innovations' headquarters in Kansas City, MO. With the desire to make a positive impact on his own community, Miles began coordinating with Manheim Park, while the VP Smart Tower was still under development and is thrilled to be able to set aside a portion of the campaign's proceeds to provide equipment and monitoring services to help stymie the spread of blight in Kansas City. In fact one of the VP Smart Tower prototypes is already being used by Clemons Real Estate in the neighborhood.
"This tool can, of course, protect the property of home rehab investors who are willing to reverse the tide of disinvestment," said Doug Shafer, Vice President of Manheim Park and chair of the Urban Neighborhood Initiative's Vacant to Vibrant Committee. "My greater hope is that preventing systematic break-ins and theft will preserve their commitment to invest in neighborhoods like ours, rather than being discouraged by property loss and abandoning their intention to rebuild and revitalize."
Manheim Park's self-help group "Neighbors Helping Neighbors" and the regional "Urban Neighborhood Initiative" vacant properties work group believe the VP Smart Tower is a game changer for property rehabilitation in distressed neighborhoods.
"We needed the VPSmartTower last week! Our Housing non-profit organizations, our For-profit Developers, and our Owner/rehabbers all have said this is exactly what they need!" said Bill Drummond, community activist with Neighbors Helping Neighbors.
The Indiegogo Campaign runs for 30 days from its November 11th launch date.
Key Product Features of the VP Smart Tower

Five foot collapsible tower that can be easily moved from property- to-property
Online dashboard to monitor one or more properties at once
Runs off a cellular tower; doesn't require a landline or WiFi connection
No contracts required
LED lights that run on a timer and triggered by alarm
Motion triggered cameras; photos quickly uploaded to the cloud for easy access and safe storage
Verified alarm prompts faster police action. Video of intrusion is immediately sent to a central station to confirm it's not a false alarm
Peak-in option allows investors to get a snapshot inside their property at any time
Runs on electricity or long life batteries (can last up to six months)
Weather and environment sensors and controls mitigate damage associated with floods, freezes, fires and more
Remote keypads and automated door locks that can be programmed for contractors, vendors and real estate agents.
Comment from Habitat for Humanity Detroit may be obtained from Tara Franey, Interim Executive Director: tfraney(at)habitatdetroit.org; 313-521-6691, ext 102.
Comment from the Manheim Neighborhood Association may be obtained from Doug Shafer, Vice President: troostbuster(at)yahoo.com; 816-210-8822.