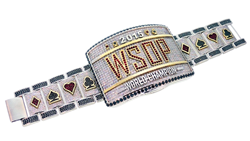 Las Vegas, NV (PRWEB) November 11, 2015
The World Series of Poker (WSOP) Main Event champion was crowned Tuesday night at the Main Event Final Table in Las Vegas. Joe McKeehen from the USA took home a $7,683,346 cash prize and the WSOP world champion bracelet. Created by Jostens, the leading national custom jewelry designer and producer, the championship bracelet honors the 2015 World Series of Poker Champion.
Custom-created by Jostens' artisan jewelry team, the bracelet is intricately assembled from over 40 uniquely-cast parts and crafted with 427 grams of white and yellow gold. The entire bracelet features 356 white diamonds totaling 25.5 carats, 626 black diamonds totaling 14.8 carats, and 194 rubies at an outstanding 3.8 carats.
Each link of the bracelet mimics a playing card, perfectly doubled down on both sides of the bracelet. This one-of-a kind design ups the ante by linking a diamond and ruby encrusted band to a show-stopping centerpiece featuring the acronym "WSOP" written in rubies that are set against a backdrop of rows of perfectly placed white diamonds. The centerpiece is punctuated on all sides by a row of black diamonds.
Opening like a locket, the stunning centerpiece bracelet top reveals a hidden compartment designed to house the two winning cards from the player's final tournament, preserving the winning hand for all time. Joe McKeehen's bracelet holds an Ace and a Ten.
"The bracelets celebrate a 45-year old competitive tradition, and Jostens is honored to be selected as the official bracelet manufacturer of the WSOP," said Miran Armutlu, VP Jewelry, Jostens. "In close collaboration with the WSOP we created a brilliant bracelet with an unparalleled custom design that's as bold and dominating as the players themselves while honoring the symbolic significance of the Main Event bracelet."
About Jostens
Jostens is a trusted partner in the academic and achievement channel, providing products, programs and services that help its customers celebrate moments that matter. The company's products include yearbooks, publications, jewelry and consumer goods that serve the K-12 educational, college and professional sports segments. Founded in 1897 and based in Minneapolis, Minn., Jostens is a subsidiary of Jarden Corporation and can be found online at http://www.jostens.com.
About Jarden Corporation
Jarden Corporation is a diversified, global consumer products company with a portfolio of over 120 trusted, authentic brands. Jarden's record of strong financial performance and organic growth is supported by a focused operating culture coupled with value enhancing acquisitions and shareholder focused capital allocation. Jarden operates in three primary business segments through a number of well recognized brands, including: Branded Consumables: Ball®, Bee®, Bernardin®, Bicycle®, Billy Boy®, Crawford®, Diamond®, Envirocooler®, Fiona®, First Alert®, First Essentials®, Hoyle®, Kerr®, Lehigh®, Lifoam®, Lillo®, Loew-Cornell®, Mapa®, Millefiori®, NUK®, Pine Mountain®, Quickie®, Spontex®, Tigex®, Waddington, Yankee Candle® and YOU®; Outdoor Solutions: Abu Garcia®, AeroBed®, Berkley®, Campingaz® and Coleman®, Dalbello®, ExOfficio®, Fenwick®, Greys®, Gulp!®, Hardy®, Invicta®, Jostens®, K2®, Marker®, Marmot®, Mitchell®, Neff®, PENN®, Rawlings®, Shakespeare®, Squadra®, Stearns®, Stren®, Trilene®, Völkl® and Zoot®; and Consumer Solutions: Bionaire®, Breville®, Cadence®, Crock-Pot®, FoodSaver®, Health o meter®, Holmes®, Mr. Coffee®, Oster®, Patton®, Rainbow®, Rival®, Seal-a-Meal®, Sunbeam®, VillaWare® and White Mountain®. Headquartered in Florida, Jarden ranks #348 on the Fortune 500 and has over 35,000 employees worldwide. For further information about Jarden, please visit http://www.jarden.com.