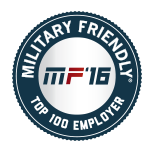 Horizon deeply appreciates the contributions of U.S. military and former military personnel, and we have built our recruitment, hiring and leave policies to support our veterans and other employees who are called to active duty
Newark, NJ (PRWEB) November 11, 2015
Horizon Blue Cross Blue Shield of New Jersey (Horizon BCBSNJ) has once again been named as a Military Friendly® Employer" by Victory Media, publisher of G.I. Jobs magazine. This is the fourth time Horizon BCBSNJ has been honored with the recognition and first time the company ranked among the top 100 Military Friendly® Employers.
"Horizon deeply appreciates the contributions of U.S. military and former military personnel, and we have built our recruitment, hiring and leave policies to support our veterans and other employees who are called to active duty," said Alison Banks-Moore, Chief Diversity Officer for Horizon BCBSNJ.
Horizon BCBSNJ ranked #5 nationally on the Military-Friendly List among peer companies in the category of "Health Care and Pharma" and #72 among all companies nation-wide.
Now in its 13th year, Military Friendly® Employers is the premier resource for transitioning service members and spouses seeking civilian employment. Criteria for the survey included a benchmark score across key programs and policies, such as the strength of company military recruiting efforts, percentage of new hires with prior military service, retention programs for veterans, and company policies on National Guard and Reserve service.
"Companies that have earned the 2016 Military Friendly® Employer award have exceptionally strong hiring programs and meaningful careers for transitioning service members and spouses," said Daniel Nichols, Chief Product Officer of Victory Media and Navy Reserve veteran. "Our Military Friendly® Employers are moving the needle beyond answering 'why hire military'—they are truly aligning their jobs and recruiting efforts with Military Friendly® educators to translate military competencies into civilian jobs."
Horizon BCBSNJ will be showcased along with other 2016 Military Friendly® Employers in the December issue of G.I. Jobs® magazine, as well as on MilitaryFriendly.com.
In keeping with its active role in the veterans' community, Horizon BCBSNJ employees last week organized a charity fund-raising event along with other Newark-based companies. Horizon BCBSNJ and its Newark corporate neighbors collectively raised more than $14,000 for the benefit of the "Wounded Warrior Project" during an outing at Long Live Paintball in Monroe Township.
About Horizon Blue Cross Blue Shield of New Jersey
Horizon Blue Cross Blue Shield of New Jersey, the state's oldest and largest health insurer is a tax-paying, not-for-profit health service corporation, providing a wide array of medical, dental, vision, and prescription insurance products and services. Horizon BCBSNJ is leading the transformation of health care in New Jersey by working with doctors and hospitals to deliver innovative, patient-centered programs that reward the quality, not quantity, of care patients receive. Learn more at HorizonBlue.com. Horizon BCBSNJ is an independent licensee of the Blue Cross and Blue Shield Association serving more than 3.8 million members.
About Horizon BCBSNJ's Diversity programs
Horizon BCBSNJ has instituted many programs aimed at promoting diversity within the company including: paid minority internships and manager development programs, as well as a Diversity Council and minority leadership programs. To learn more about Horizon BCBSNJ and its diversity efforts, visit: http://www.HorizonBlue.com/diversity
About Military Friendly® Employers:
The Military Friendly® Employers designation process includes extensive research and a data-driven survey of companies with annual revenue over $100 million nationwide; the Top 100 Military Friendly® Employers list includes companies with annual revenue over $500 million. The survey, methodology, criteria and weightings are developed with the assistance of an independent Advisory Board comprised of higher education, recruiting, HR and diversity professionals from across the country. The survey is administered for free and open to companies meeting the eligibility criteria. The methodology and more information about the program, along with the complete list of employers, can be found on MilitaryFriendly.com.
About Victory Media:
Based in Pittsburgh, Victory Media is a service-disabled, veteran-owned small business that connects classrooms to careers for the nation's next generation of professionals. Our datadriven ratings are published in G.I. Jobs®, Military Spouse, Vetrepreneur® and STEM JobsSM media, and featured in national media including USA Today, Wall Street Journal, FORTUNE, Bloomberg, NBC, ABC, CBS, CNN, CNBC, Fox News and others. Learn more about our Media, Training and Ratings solutions at victorymedia.com, and follow us on LinkedIn, Facebook, Twitter, and YouTube.
###