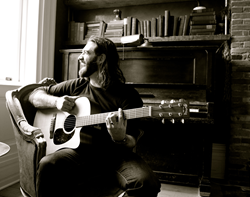 This is Reggae, Roots, and Soul, at their very best; back the way they were meant to be – with meaning, feeling, depth, and clarity.
Ithaca NY (PRWEB) November 13, 2015
Jon Petronzio has been recognized by The Recording Academy® in their official 2015 Grammy Awards balloting. His music has garnered two entries in the following categories:
Category 4: Best New Artist
Ballot Entry # 337
Jon Petronzio - Road Man
(Award goes to Artist)
Category 8: Best Pop Vocal Album
Ballot Entry # 223
Road Man - Light At The Speed Of Life
(Award goes to Album)
Some creative endeavors take time to reach completion. In this case it took 7 years to reach that goal, and the time invested is proving to be well worth the wait. Earlier this month, Jon Petronzio an unsigned and independent musician from Ithaca, NY, received some most unexpected news. Out of 21,000 submissions, Jon's album - titled "Light at the Speed of Life" under the moniker of Road Man - was added to the 58th Grammy Awards ballot and is currently a contender in two categories: Best New Artist and Best Pop Vocal Album. In Jon's own words, "Although I'm up against some of the biggest names in music, I remain optimistic. Even at this point, I've already achieved more than I could have ever dreamed". Being considered for such a prestigious award is no small feat, and the Ithaca community has been rallying behind him since the announcement. Everyone loves to see the underdog arise from obscurity to be recognized for their excellence and it seems like Road Man may have a bright future ahead. The nominations will be announced in mid December and the 58th Grammy Awards will air on CBS on February 16'th 2016 at 8/7c.
EPK - http://cyberpr.biz/clients/3337
ALBUM PURCHASE - http://roadman.bandcamp.com/releases
ITUNES - https://itunes.apple.com/us/album/light-at-the-speed-of-life/id944009827?uo=4&at=10laZr
OTHER FEATURES ABOUT THIS STORY -
http://ithacavoice.com/2015/10/ithaca-musicians-debut-solo-album-in-grammy-spotlight/
http://www.tompkinshosting.com/tompkinsweekly/TompkinsWeekly151109.pdf