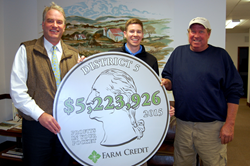 "We are pleased that we have the ability to strengthen the position of the American farmer and other agricultural businesses that this nation depends on for nourishing its families,"
Farmville, VA (PRWEB) November 11, 2015
Borrowers who have teamed up with Colonial Farm Credit to tackle their lending needs are getting a "quarter-back" this year. Through a unique and growing patronage refund program, Colonial will refund to its borrowers the equivalent of 25 percent of the interest earned on their loans in 2014.
Fifth District Representative Robert Hurt met recently with local farmers and Farm Credit employees at the Farmville branch office and took a moment to recognize agricultural lender Farm Credit for returning over $5.2 million to residents of his district. "Our farms and farmers are facing a variety of political, economic, and environmental issues," said Rep. Hurt. "I congratulate Farm Credit on their 100 years of providing support to our rural communities and sharing the organization's success with them."
Farm Credit is able to offer this benefit to its member-borrowers as a participant in the Farm Credit nationwide lending cooperative that serves the diverse needs of rural communities throughout the United States. The agricultural lender will celebrate its 100th year anniversary in 2016.
This refund is equivalent to reducing customers' borrowing costs by nearly 1 percentage point. Colonial Farm Credit never wavered from returning patronage refunds even during the economic turmoil that rocked the nation and world in the past decade.
"This is the highest percentage we have paid in our history, thanks to our strong capital position and sound credit quality," said Greg Farmer, president and CEO of Colonial Farm Credit. "We love being able to save our members money and look forward every year to distributing patronage checks."
"We are pleased that we have the ability to strengthen the position of the American farmer and other agricultural businesses that this nation depends on for nourishing its families," Farmer said.
ABOUT COLONIAL FARM CREDIT
Colonial Farm Credit is a customer-owned financial cooperative and member of the nationwide Farm Credit System, which loans funds and provides financing expertise to farmers, agribusinesses and rural homeowners for land, homes, and farm operating purposes. The cooperative has over 4,625 members and $610 million in loans outstanding, with twelve offices serving eastern Virginia and southern Maryland. The complete Colonial Farm Credit annual report is available at http://www.colonialfarmcredit.com.