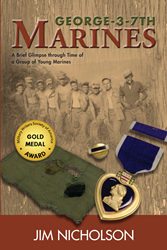 Dallas, Texas (PRWEB) November 11, 2015
In the Korean War, 54,000 Americans were killed. That is roughly the same number of men killed in the Vietnam War. Jim Nicholson, an infantryman with George Company, 3rd Battalion, 7th Marines, was one of the select few who carried a Browning automatic rifle through five major campaigns and lived to tell the story.
This Veterans Day, Nicholson's book, George-3-7th Marines (Brown Books Publishing Group), honors those men he served with and the countless others who risked their lives.
Selected as a gold medalist by the Military Writers Society of America, George-3-7th Marines "has put a human face on what has been called the 'Forgotten War,'" said Carol Ferguson of the Greenville Herald-Banner.
"It shows readers how a small group of men stopped the spread of communism," said Nicholson. "It gives the perspectives of multiple members of the G-3-7 and shows that a warrior will always be a warrior."
With stunning photographs taken while Nicholson was in Korea, as well as detailed letters and notes presented throughout, Nicholson's book provides a glimpse into the everyday lives of soldiers who were often isolated in the cold mountains, surviving on scarce rations provided by airdrops or nature.
"It is the most graphic and human account of ground warfare I have ever read," explained Ronald Wade, a retired United States Air Force major.
For more information about Jim Nicholson and George-3-7th Marines, please visit http://www.George-3-7Marines.com
###
To schedule an interview with Jim Nicholson, please contact Cathy Williams or Gavin Rhoades with The Agency at Brown Books at Cathy.Williams(at)TheAgencyAtBB(dot)com or Gavin.Rhoades(at)TheAgencyAtBB(dot)com