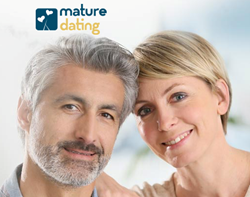 In addition to an easy to use interface, the site features a live component that brings together the best of online and offline dating
Los Angeles, Calif. (PRWEB) November 12, 2015
NSI Holdings, creators of popular websites Cupid.com and UniformDating.com, has launched MatureDating.com for singles over 40 in the US. The announcement was made by MatureDating.com PR Director Anastasiya Yarkova. NSI Holdings online dating sites now comprise 110 million members, spanning 50 countries and 20 languages. Now one of the largest mature dating sites is available not only in UK, but also in the US, Canada and Australia. New members can register free to celebrate the site's official US launch.
Easy To Use Interface
Singles over 40 years of age now represent the fastest growing portion of online dating. MatureDating.com is set up with several new key features that allow a smooth matchmaking process. In addition to a new interface, the site features a "live" component that brings together the best of online and offline dating. "We're making it fun, safer and easier than ever for singles over 40 to meet their match," says Yarkova.
A New Experience
People that feel awkward working with technology will find MatureDating.com's site a breeze to navigate. Now, members can set up their online dating profile in a couple of steps. Member profiles enable you to see the age, education, religion, and other interests of a potential partner before making contact. MatureDating.com's advanced interface allows members to engage in "online" chat before making additional "offline" plans.
Changing Demographics
The need for MatureDating.com stems from recent changes in demographics. Many senior women are under the impression that the man-to-woman ratio makes it almost impossible to find that special someone. That's not the case, the latest statistics reveal that from ages 55-64 there are 92 men for every 100 women. For divorced people, the current numbers show that 75 percent of women and over 80 percent of men once again experience a serious exclusive relationship later in their life.
Great Expectations
Research has shown that people over 40, including seniors, have more free time to pursue deeper friendships and romantic relationships. At the same time, the vast majority of older men and women are happy with the lives, but looking for compatible partners to share great times.
About NSI Holdings, Ltd.
NSI Holdings offers a complete suite of B2C services. Our rich, extensive capabilities, across multiple platforms including web, mobile and apps allow users to quickly and easily discover, meet and date people who share common interests and lifestyles. We believe relationships lead to a richer, fuller life. NSI Holdings online dating sites now comprise over 110 million members, spanning 50 countries and 20 languages.
Everything we do is inspired by our customers. We are working hard to better understand the social and dating interests of our users. This allows us to focus on specific needs, providing customers with advanced online dating technologies and industry best practices.