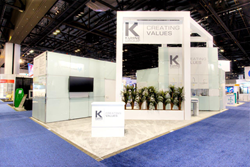 Moving into a custom exhibit rental is a major decision for most companies. However when you review your trade show goals...the reality sets in that you better be the firecracker on the show floor. - Todd Koren
Tustin, CA (PRWEB) November 11, 2015
Nothing gets more attention on a trade show floor than a large custom exhibit display or double deck exhibit. These exhibits make a statement as well as establishing a large space to interact with potential clients, to display products and services, do product demonstrations, and communicate information. Most exhibitors may not recognize that many of the custom exhibits seen on the show floor are actually rental displays. This alternative gives exhibitors extreme flexibility. With rentals, companies can expand or change their booths as needed.
Todd Koren, Absolute Exhibits CEO …"Moving into a custom exhibit rental is a major decision for most companies. However, when you review your trade show goals, many times a year's worth of business needs to be written, the reality sets in that you better be the firecracker on the show floor. That does not mean paying to own a custom exhibit. Renting a custom designed exhibit, with personalized branding, and all of the attributes of a custom purchase would bring. Today we offer multiple show contracts that utilize the entire rental exhibit or parts and pieces for a smaller show."
As an exhibit builder, Absolute Exhibits has a number of ways to bring the pricing of custom exhibits and double deck exhibits to meet a client's budget. Whether using the same exhibits for three shows in three years, or using the same exhibit at three shows throughout the year, or attending ten shows in two years with a variety of sizes for booth spaces. There is a program that will meet your needs and lower your expenses. Call and speak to an account executive for detailed information 888-760-6555.
About Absolute Exhibits
A leading exhibition firm, Absolute Exhibits provides clients with turnkey solutions for designing and fabricating exhibits while managing the entire trade show experience as a one-source trade show and convention exhibit resource. Established in 2000, with locations in Southern California, Las Vegas, Orlando, and Bucharest, Romania, Absolute Exhibits rents and sells custom and system exhibits at over 300 shows in the USA and in countries around the world.