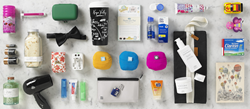 Making travel smarter is the core mission of EssentialsGo. We are transforming the way people travel, offering the finest customer service, and putting real products in the hands of consumers who don't want to be caught without their favorite brands.
San Mateo, California (PRWEB) November 17, 2015
EssentialsGo, the leading on-demand travel product and luxury gift solution for travelers and hospitality hosts, is preparing inventory for the busy holiday season as millions of Americans hit the road, sky and rail between Thanksgiving and New Year's Day. More than 43 million people will travel during the 12 days before and after Thanksgiving in the U.S. alone, providing hotels and Airbnb-like hosts a surge of travelers looking for the best lodging experience while away from home.
A recent study conducted by Resonance Consultancy concluded technology, travel and leisure experiences are the most coveted luxuries to U.S. households, with the millennial generation leading the demand for excellence. Approximately 80% of millennials say their travel decisions are influenced by social media reviews of other traveler's experiences with a hotel or host. While traditional hotels and resorts are the lodging of choice for millennials, 40% of the demographic use Airbnb and similar hosting services as well.
EssentialsGo is a California-based travel company providing hotels and hosts unique products for their highly valued guests. In addition to daily essentials and luxury name brand products for the hospitality industry, EssentialsGo provides a personal shopper for guests who want to submit their wishlist in advance of travel. With a wishlist, the EssentialsGo team will create a customized bundle of products and necessities that can be delivered directly to a destination of the customer's choice the day of arrival.
"With the U.S. travel outlook predicted to be very strong this holiday season, travelers will be dealing with long car rides, security lines and heightened enforcement. EssentialsGo can help hospitality businesses treat their guests to exceptional luxury travel gifts that pamper and soothe, and alleviate the stress of travel by shipping personal necessities in advance," said Lisa Lum, founder of EssentialsGo. "As our social media age continues to define how travelers select their hotel of choice, special touches or luxury gift items only heighten and reinforce a customer's experience with a hotel brand, which they are more likely to share with their network."
As reported last month, EssentialsGo continues to meet high demand after beating business expectations since its launch in September. The EssentialsGo website is the leading marketplace offering travel products ranging from personal care items to clothing, travel and technology accessories, bed and bath items, and much more. Products can be expedited to all 50 states, and same-day delivery is available in the San Francisco Bay Area.
To learn more about EssentialsGo products, luxury travel items and personal shopper services, visit http://www.essentialsgo.com or call 855-974-4494.
About EssentialsGo
Founded in July 2015 and based in San Mateo, California, EssentialsGo is an on-demand travel essentials e-shop for people to get their everyday travel essentials delivered to their destination. Products sold range from national best selling products of recognized brands that travelers need, to popular products from luxury brands. EssentialsGo also offers customers a personal shopping service where people can submit their wishlist and a customized bundle is put together and delivered to them. Shipping is currently available within USA only. Same-day delivery is currently available in San Francisco bay area. EssentialsGo looks to add more city locations in the near future. For more information visit http://www.essentialsgo.com.