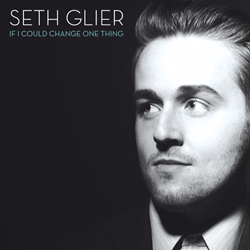 "Singer with an exquisite tenor echoes Bruce Springsteen and Billy Joel." – USA TODAY
New York, NY (PRWEB) November 12, 2015
Singer-Songwriter and multi-instrumentalist Seth Glier has just been invited to join the incomparable pop icon, Ronnie Spector on her "Ronnie Spector Sings The Fabulous Ronettes" tour in the UK at the end of the month. Glier travels across the pond from his native Massachusetts to England to debut his acclaimed new album "If I Could Change One Thing", during the weeklong tour starting on November 28 in Liverpool, full tour dates below.
"If I Could Change One Thing" debuted in the Top 40 of the Singer-Songwriter chart on iTunes and remains on the "Hot Tracks" list 34 weeks later. Billboard.com premiered the music video for the title track "If I Could Change One Thing" featuring American Idol's Crystal Bowersox. Glier's genuine modern-pop sound merges genres seamlessly and his heartfelt, universal lyrics about falling in and out of love and social action, capture a songwriter and performer at the peak of his young abilities. Available now via iTunes and MPress Records.
On tour, Glier performs with Joe Nerney, a blind 62-year-old sax player whom he met when he was 15. Nerney's contributions add another layer to Glier's captivating live show. "Each performance when I look to my left and see Joe slaying the audience with a solo and I watch him smile after the audience applauds, it remains the most authentic thing I've ever seen in my life," admits Glier. Nerney, will also be performing with Spector's band along the tour.
At only 26 years old, Glier has released three albums prior to "If I Could Change One Thing", including his Grammy® nominated sophomore album "The Next Right Thing", and the critically praised "Things I Should Let You Know" via MPress Records. Glier has shared the stage with artists as diverse as James Taylor, Ani DiFranco, Edwin McCain, Martin Sexton, Emmylou Harris and Ryan Adams, and has quickly become known for his passionate live sets and powerful command of both piano and guitar.
Watch the "If I Could Change One Thing" Video featuring Crystal Bowersox here
Critical acclaim for "If I Could Change One Thing":
"Sweetness abounds in the charming fourth album from Massachusetts-born singer-songwriter…"- USA TODAY
"For Glier's fourth album, he's taking his aesthetic from acoustic balladeer to modern-pop crooner, all while preserving the heartfelt songwriting." – BILLBOARD
"Folk lyrics with a pop feel, philosophical musings with a backbeat and grown- up love songs delivered in Glier's youthful tenor hold our attention." – ELMORE MAGAZINE
"filled with unbridled pop perfection." – POPMATTERS
"8 out of 10 stars – Glier had made a pop album that is full of catchy songs yet still conveys a genuine sense of emotion." – GLIDE MAGAZINE
"charming pop sensibility…an album that reminds listeners of artists like Ed Sheeran and Ryan Tedder (of OneRepublic), Seth Glier does find his own distinct voice and sings with a timbre and tonality that is simultaneously airy and vibrantly smooth." – BROADWAY WORLD
On tour now:
Nov 12 // Golden State Theatre w/ Crystal Bowersox // Monterey, CA
Nov 14 // Herbst Theatre w/ Brett Dennen, Crystal Bowersox // San Francisco, CA
Nov 15 // World Cafe Live w/ Leon Russell // Wilmington, DE
Nov 21 // Calvin Theater w/ Martin Sexton // Northampton, MA
Nov 28 // Liverpool Philharmonic Hall w/ Ronnie Spector // Liverpool, United Kingdom
Nov 29 // Royal Concert Hall w/ Ronnie Spector // Glasgow, United Kingdom
Nov 30 // The Sage w/ Ronnie Spector // Gateshead, United Kingdom
Dec 01 // Town Hall w/ Ronnie Spector // Birmingham, United Kingdom
Dec 03 // Barbican Hall w/ Ronnie Spector // London, United Kingdom
Dec 04 // Colston Hall w/ Ronnie Spector // Bristol, United Kingdom
Dec 05 // Moondance // Madrid, Spain
Dec 06 // Sala BBK // Bilbao, Spain
Dec 08 // Concert Window Residency // Easthampton, MA
Dec 10 // Blue Door // Oklahoma City, OK
Dec 11 // AAC Live // Fort Smith, AR
Dec 12 // Jefferson Freedom Cafe 1st Jefferson UU Church // Fort Worth, TX
Dec 15 // Concert Window Residency // Easthampton, MA
Dec 22 // Concert Window Residency // Easthampton, MA
Dec 27 // Caffe Lena // Saratoga Springs, NY
Dec 30 // Seven Steps Up // Spring Lake, MI
Dec 31 // Listening Room // Port Clinton, OH
Feb 27 // Circle of Friends Coffeehouse // Franklin, MA
For more information on Seth Glier, visit his website: http://www.sethglier.com
Media Page: https://www.presskit.to/sethglier
Press & Label Contact:
Melanie Rodriguez, MPress Records // melanie(at)mpressrecords(dot)com // 212-481-7243 // http://www.mpressrecords.com
Management:
Greg Devito, Invasion Group // greg(at)invasiongroup(dot)com // 212-414-0505 x 110 // http://www.invasiongroup.com