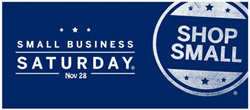 The day, scheduled after the traditional day of Black Friday for big box stores and originally founded as an effort by American Express, focuses more on putting more money in the local economy.
Chambersburg, PA (PRWEB) November 11, 2015
Franklin County is gearing up for Small Business Saturday of November 28, a day that will celebrate the county's locally-owned businesses.
The day was originally founded as an effort by American Express, focuses more on putting more money in the local economy. The communities of Chambersburg, Mercersburg, Waynesboro and Greencastle are participating in this event each with different activities and specials.
Downtown Chambersburg Inc. will give more than $2,000 away in downtown dollars to shoppers who present a receipt for $25 or more dated November 28, 2015 from a Downtown Chambersburg business. Visitors can shop downtown all day and enjoy one-day specials at select businesses.
In coordination with the effort, many downtown businesses all throughout Franklin County will be offering specials and events.
Here's Looking at You boutique in Chambersburg is offering 20% off the entire purchase of merchandise not already on sale during their business hours on Saturday only from 9am to 5pm. The store offers distinctive women's clothing, unique accessories and gifts
The Gift Enclosure in Chambersburg will be offering a sale on Vera Bradley throw blankets for buy one, get one half off. Retired Vera Bradley styles are 50% off and select items will be on sale in the store for $11.28.
Merle Norman Cosmetics in downtown Chambersburg will have a limited edition collection for $37.50 with a $50 purchase. The collection is loaded with anti-aging skin care, eye makeup and lip colors. They open at 10am on Saturday!
Other communities in Franklin County will be having their own efforts.
In Greencastle, Inner Beauty will be serving light refreshments while visitors shop. This store carries many lines of women's clothing for all ages and all sizes. Gift certificates are available and there is a free gift wrap special. For those purchasing Brighton products, there is a promotion going on for a JOY tote. They are open 10am to 5pm.
Travelers Trunk in Greencastle is offering 20% off products in the shop with Christmas items 25% off. Some exclusions will apply. Antiques, repurposed items and sometimes, refurbished vintage trunks are featured as well as a wide range of other items.
Joyful Arts Studio in Greencastle will be offering a Make-it, Take-it ornament painting project during the day from 10am to 4:30pm. One ornament will be $8 and two for $15. No registration is required and beginners are welcome.
Another place to shop in Greencastle, UpScale Consignment Shop is offering a buy one get one half off sale. With the purchase of a pair of jeans or slacks, get ½ price off a shirt, blouse of sweater.
At Crown Vetch Cottage in Greencastle, items in the store will be 25% off with 15% off of vintage and rustic furniture in the store. This antique and special gifts store will delight with an ever-changing selection of home décor, gifts, antiques, collectibles, decorative accessories and jewelry.
The communities of Mercersburg and Waynesboro are also participating in the day of promoting shopping local through the Waynesboro Chamber of Commerce and the Tuscarora Chamber of Commerce.
The Waynesboro Hospital Gift Shop is offering 20% off all their holiday items on this day and on Saturday, December 5.
James Shoes, also located in Waynesboro, will be offering half price all of the sale priced shoes in store.
For a complete list of participating businesses, visit http://www.explorefranklincountypa.com. For updated coupons, holiday happenings and specials, make sure to download the Franklin County Visitors Bureau mobile application in the Google Play Store and iTunes.
The Franklin County Visitors Bureau invites all to explore Franklin County PA and enjoy the history, arts, recreation, natural beauty, fresh foods and warm hospitality of communities like Chambersburg, Greencastle, Mercersburg, Shippensburg, and Waynesboro. Franklin County PA is located just north of the Mason Dixon Line and an easy drive to Washington DC, Philadelphia, and Pittsburgh. Discover more….plan your visit at ExploreFranklinCountyPA.com , by contacting 866.646.8060 or 717.552.2977.