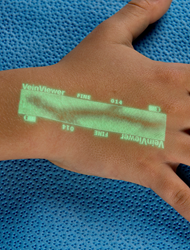 VeinViewer is a leading edge technology that helps vein specialists provide the highest level of care to their patient
ORLANDO, Fla. (PRWEB) November 11, 2015
Christie Medical Holdings Inc., the global leader in vein finder technology, will be displaying its VeinViewer® Flex and VeinViewer® Vision2 at the ACP 2015 annual congress, November 12-14 at the Hilton Bonnet Creek in Orlando, Florida, in booth 211. The ACP annual congress brings together physicians and healthcare professionals from around the world to provide vein care practitioners the latest minimally invasive techniques.
With VeinViewer clinicians can locate the deeper veins that feed spider veins, which aids in mapping the treatment procedure. VeinViewer uses harmless, near-infrared light to provide clinicians an accurate image of peripheral veins up to 10mm deep and blood patterns up to 15mm deep. Using VeinViewer in during sclerotherapy, clinicians can actually watch as sclerosant clears the blood column.
"VeinViewer is a leading edge technology that helps vein specialists provide the highest level of care to their patient," says George Pinho, president, Christie Medical Holdings, "and physicians can incorporate VeinViewer into their procedures with ease."
VeinViewer also allows the patient to see the root cause of their issue during the consultation and gain a greater degree of understanding around the treatment plan. They can also see before and after pictures of the affected area with VeinViewer's Image Capture feature. Physicians attending ACP will be able to interact with this innovative technology first-hand.
To learn more about Christie vein finding devices:VeinViewer Vision2 and VeinViewer Flex, please visit http://www.christiemed.com.
About Christie Medical Holdings, Inc.
Christie Medical Holdings Inc. is a global company based in Memphis, Tenn., that discovers, develops and commercializes medical technologies. The company's market-leading product, VeinViewer, is manufactured in the USA. It is a mobile vascular imaging system that allows health care providers to clearly see accessible vasculature as a real time HD image, directly on the surface of the skin. Christie Medical Holdings Inc. is owned by Christie Digital Systems Inc., a global visual technologies company and a subsidiary of Ushio Inc., Japan. For more information on Christie Digital Systems or Christie Medical Holdings, visit http://www.christiemed.com.
Follow us on Twitter @christiemed