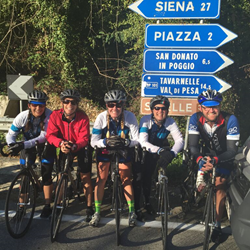 "Our Backroads Staff Ride is part corporate team building event, part fantastic party and big part thank-you—for over three decades our great staff has worked hard and played hard to make us the active travel leader that we are today."
BERKELEY, CA (PRWEB) November 16, 2015
Backroads, the leading active travel company offering biking, hiking, multisport and family trips across the globe, took team-building to a whole new level last month when more than 350 Backroads staffers went on the ultimate company outing: five days of cycling through the rolling hills of Tuscany, Italy.
Trip leaders and office staff alike pedaled more than 200 miles, from Florence to Siena and points between, along winding country roads through picturesque Italian towns, stopping to taste wine and olive oil, or enjoy an espresso along the way. Backroads even took over the small village of Radda in Chianti where they were honored with a tented dinner in the town square. The local townspeople began cooking and preparing the dinner weeks in advance of their arrival—it was one of the largest events Radda and its mayor had ever hosted.
The Staff Ride, as it's grown to be called, has become deeply ingrained in the Backroads culture. Each year since the company's inception in 1979, Backroads has treated its employees to an all-inclusive cycling trip. At more than 350 people, this year marks by far the largest Staff Ride to date. View staff ride video here: https://youtu.be/XslXXeY5Sys
"At Backroads, we truly value our employees' contributions to our continued success, and once a year we make it a point to celebrate and travel together," said Tom Hale, founder and president. "Our Staff Ride is part corporate team building event, part fantastic party and big part thank-you—for over three decades our great staff has worked hard and played hard to make us the active travel leader that we are today."
In previous years the Staff Ride has taken place in such hotspots as Greece, Thailand, Slovenia, Spain and the California Wine Country. All employees are eligible to participate in the annual Staff Ride and enjoy a number of other benefits, including free gear, discounted bikes and outdoor gear and clothing. Full-time office employees also receive trip credit that can be used on any Backroads trip as well as generous time off benefits, medical, dental and vision insurance, 401k plan with employer matching, onsite yoga and gym.
About Backroads
Backroads (http://www.backroads.com) was founded in 1979 by Tom Hale. The company has been in business for more than 36 years and hosts thousands of guests in hundreds of locations across the globe, 80% of whom are repeat guests or referrals from past guests. Named one of the top 100 places to work by Outside magazine three years running, Backroads is a founding member of the Adventure Collection. For more information, please visit http://www.backroads.com or call 800-462-2848 daily, 6 a.m. to 6 p.m., Pacific Time.
###
Backroads
Liz Einbinder
415-577-8255
Liz_Einbinder(at)Backroads(dot)com