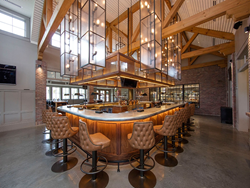 Best Places to Live in the South
Atlanta, Georgia (PRWEB) November 12, 2015
Considered among the best places to live in the south, Reynolds Lake Oconee, home of The National golf course, just announced the opening of its seventh restaurant. The National Tavern is a welcome addition to the community's National Golf Village, featuring unique cuisine by acclaimed Certified Master Chef Derin Moore. With its elegant design, sweeping hilltop views, and abundance of southern charm, The National Tavern at Reynolds is a sensational place to dine.
Continuing the Reynolds' tradition of charm and style, guests of the Tavern are treated to a southern comfort experience. Fashioned after a modern farmhouse, with a sleek interior design, the Tavern boasts casual seating, an open-air veranda, and magnificent hilltop views. While outdoor guests can enjoy the practice putting green, evening guests can sip wine by a roaring wooden fire. The menu includes fresh glazed salmon, delicious specialty pizzas, and various wood-roasted treats, as well as cocktails, beers and lagers at its commodious bar and lounge.
Folks who are not yet familiar with one of Georgia's best golf course communities, Real Estate Scorecard believes Reynolds Lake Oconee is a special place to be. With features such as three Tom Fazio Lake Oconee golf courses, and lakefront homes with stunning views of natural scenery, Reynolds is a dream for families, and retirees. The community boasts amenities such as private parks, clubhouses, a Ritz-Carlton Resort, tennis centers, swimming pools, and a 38,000 square foot Lake Club. Within and around Reynolds Lake Oconee there are excellent schools, healthcare facilities, and health and wellness centers, providing residents with safe and healthy lifestyle choices.
Take a peek at Reynolds Lake Oconee homes
As for The National, this golf course is perhaps the best of all Lake Oconee golf courses. In fact it is 3 courses of 9 holes, for a total of 27, over rolling terrain, through hardwood forests, and along the spectacular lake. Whether folks play The Ridge, Cove, or Bluff, or all of them in a day, folks can rest their feet, and have a warm meal, or a drink, at the National Tavern.
Why not plan to visit one of the best places to live in the south, and one of the country's best golf course communities, Reynolds Lake Oconee offers a two-night, Lifestyle Package to visit the communities, enjoy the fabulous amenities, explore the dining options, meet wonderful people, and truly appreciate the Lake Oconee lifestyle. The Reynolds Lifestyle Package includes:
A Deluxe Room for two at one of several Lake Oconee accommodations (Which may be The Ritz-Carlton)
Complimentary Breakfast for two each morning
$75 Club Credit to be used toward Reynolds' dining, marina or merchandise
Two (total) complimentary rounds of golf at one of the Lake Oconee golf courses
Two-hour Pontoon Boat Rental
A $100 Ritz-Carlton Spa Certificate
Access to the best Lake Oconee community amenities
Autumn is a great time of year to appreciate Georgia's nature, to spend time with friends, to make new friends, and to golf at Lake Oconee. Winter events include Lakeside Ice Skating, Gingerbread Workshop, Breakfast with Santa and Story Time with Mrs. Claus & Special Guests.
For reservations for the Reynolds Lifestyle Package, contact Reynolds Plantation Properties directly at 800-800-5250.
About Real Estate Scorecard:
Real Estate Scorecard writes unbiased real estate reviews providing in-depth information about popular gated communities in Florida, Georgia, the Carolinas, Tennessee and Central America, all in an effort to help people discover where to retire in the South.
Website: http://realestatescorecard.com