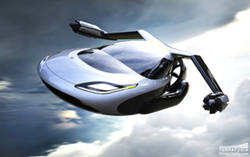 This unique first event is designed for passionate local car enthusiasts who want an inside look at new, disruptive technologies and first-hand conversations with some of the top achievers in the automotive world.
San Rafael, CA (PRWEB) November 12, 2015
If you thrill at the notion of cars traveling up to 1000 mph, are intrigued by the prospect of flying automobiles, and love the action driving scenes in James Bond films, the Paddock community invites you to explore these topics and more at its exclusive signature event, Paddock Ignition! on February 27, 2016 in northern Marin County.
The one day event offers an incredible new experience for car enthusiasts and provides a platform for inspired conversations on the automotive lifestyle and the future of technology, innovation and design. The theme is 'Innovation. In Motion.' and the event will feature a unique curated agenda that includes inspiring keynote speakers, captivating 'TED Talk' style educational sessions, up-close access to some of the world's most innovative cars and plenty of fun and excitement.
Top professionals and experts in the automotive industry will share their vision for the future, provide updates on projects underway and in the works, and engage in one to one conversations with participants.
"We are excited to announce the launch of the new Paddock community and this unique first event designed for passionate local car enthusiasts who want an inside look at new, disruptive technologies and to participate in first-hand conversations with some of the top achievers in the automotive world," says James Scott, founder. "We've created something pretty special and can't wait to share it."
Among the first speakers are:
Ben Collins: TV Personality & Professional Driver
Ben has raced successfully in almost every class imaginable, from Formula 3 and Le Mans to NASCAR. During his eight years as Top Gear's The Stig, he put the world's fastest and most beautiful supercars to the test and taught the A-list how to lay down racing laps.
Ben also designs and performs some of TV and Hollywood's greatest car stunts, and has doubled for 007 in Quantum of Solace, Skyfall and Spectre, as well as other famous movies.
Mark Chapman: Chief Engineer, Bloodhound SSC
Meet the man who is one of the critical members of a team that is building a car that will go 1,000 mph. Mark graduated from Bath University with a degree in Aeronautical Engineering and since then has been worked on a wide range of projects. He worked in Seattle for Boeing with their Propulsion Systems Division and then for Rolls Royce in Bristol, UK.
Prior to Bloodhound, Mark spent nearly 5 years on the F135 and F136 engine programs and as part of the design team on the STOVL system for the F-35 Lightning II, the Joint Strike Fighter. He joined Bloodhound early in 2008, prior to the public launch of the project, and became Chief Engineer in 2010.
Carl Dietrich: CEO/CTO, Co-Founder Terrugia Flying Cars
Carl is generally regarded as the leader of the emerging modern flying car industry. He has been a private pilot since the age of seventeen. Terrafugia (ter-ra-FOO-gee-ah) intends to catalyze a revolution in personal mobility. Their vehicles bring a new level of safety, convenience, and freedom to personal transportation.
Carl received his BS, MS and Ph.D. from the Department of Aeronautics and Astronautics at the Massachusetts Institute of Technology (MIT) shortly after being selected as the 2006 winner of the prestigious Lemelson-MIT Student Prize for Innovation. Carl was additionally recognized by the Aero/Astro Department at MIT as one of sixteen exceptional graduates under the age of 35 and has also received "40 Under 40" awards from the Boston Business Journal and Aviation Week & Space Technology magazine.
Paul Elio: Founder & CEO, Elio Motors
Paul Elio was an eight-year-old with dreams of launching his own car company. As an adult he attended the country's top automotive engineering school, General Motors Institute, now Kettering University in Flint, Michigan, graduating Magna Cum Laude. Elio began his career with Johnson Controls, before launching his first business, ESG Engineering.
Over time, ESG Engineering grew to a successful 40-person firm but Elio still yearned to own a car company. While on a trip with a close friend, Elio came up with the idea of a three-wheel, high-mileage 'auto-cycle'. Elio knew the idea filled an unmet demand and shut down ESG Engineering to focus all his energy on his childhood dream, Elio Motors.
Alastair Mitchell:Caterham Kit Car Expert
Alastair is a true speed lover, engineer and Great British Gearhead. He is also a lifelong fanatic of the Lotus marque whose journey into the world of self-built cars started with the legendary Lotus 7.
From its launch in 1957 to its current incarnation as the Caterham 7, this iconic car remains one of, if not the, fastest, best handling and most exciting ever built; as the Stig will testify having taken the lap record in one around Top Gear's track!
An entertaining speaker, Alastair will take you through the once-in-a-lifetime bucket list item that is building your own car - along with some entertaining stories from his motoring journey.
Rachel Shuler: Founder, Mountain Tree Studios
Unlike lots of professional automotive photographers, Rachel didn't grow up as a car-nut. Her love of cars actually grew out of her love for photography. Over the years, she's photographed almost every subject imaginable, but car photography always remained at the forefront.
Rachel predominantly photographs for private clients, but has also worked with high-end dealerships and a range of automotive events. She has been an official photographer for the Danville Concours for the past 4 years and her images have been used in publications for clients such as Jaguar/Land Rover, Maserati Magazine and McLaren SF.
Rachel also continually works on her automotive fine art series' and recently held a solo show; 'Art from Machine', locally in Marin.
Experiential elements of the day include:
● Stretch your legs, get outside and sample an awe-inspiring collection of cars belonging to event attendees, local collectors and prestige brands.
● Meet some of the many local businesses that provide interesting products and services for car enthusiasts.
● Show what you're made of by clocking your best timed lap on our professional race simulator, or go head-to-head with your friends on the 6 lane slot car track!
● Enjoy live music, great food and drinks and plenty of exclusive networking opportunities.
Commenting on why he started Paddock, Scott said, "Our members contribute an intellectual engagement that extends beyond the love of a specific brand or model. They admire the aesthetic beauty of expert craftsmanship, engineering and design. They crave the sensorial experience; the smells, the sounds, the feel of the open road. Paddock is a place for those that share this passion to converse, socialize and share the journey."
A portion of the proceeds from the event will be donated to Speedway Children's Charities, the charitable arm of Sonoma Raceway that helps children in need. The group has distributed more than $4.8 million to Sonoma County youth-serving organizations since 2001.
Tickets for Paddock Ignition! 2016 are limited and are available now at http://www.paddockignition.com.
Follow @thisispaddock to join the #Ignition2016 conversation on Twitter and Paddock on Facebook.
About Paddock Ignition!
Paddock Ignition! is the inaugural event of the Paddock community to be held on Saturday, February 27 in northern Marin County. For more information and to purchase tickets, visit http://www.paddockignition.com.
About the Paddock community
Founded in 2015, Paddock was founded to ignite new conversations about automotive innovation, technology and design. We bring together local enthusiasts who embrace an automotive lifestyle, and provide a platform of community events and experiences that allows them to deepen their knowledge, discover new interests and celebrate their passion. Find out more at http://www.thisispaddock.com.