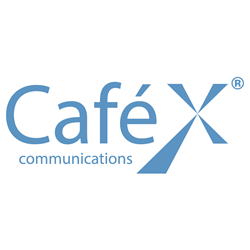 CafeX and CBA are eager to demonstrate how WebRTC-based offerings can improve customer engagement.
New York, New York (PRWEB) November 12, 2015
CafeX Communications®, a leading provider of real-time engagement solutions for mobile and web platforms, will showcase its market-leading WebRTC-based omnichannel customer interaction solutions at the Call Center/CRM Conference from November 12-13 at the Sunshine City Convention Center in Tokyo, Japan.
Together with its key regional partner, Communication Business Avenue (CBA), CafeX will demonstrate its Live Assist® solution, which was awarded the 2014 Product of the Year at Enterprise Connect, the largest business communications event in North America. CafeX will also share learnings from customer projects in North America during a presentation led by CBA on November 13. CafeX and CBA will be located at stands 3D-5 and 2R-6 (WebRTC Zone) throughout the exhibition.
Recognized as a leader in WebRTC-based omnichannel customer interaction solutions, CafeX provides a broad range of software solutions that extend enterprises' existing contact center infrastructures to mobile and web platforms. The company is in the midst of a significant international market expansion. Its participation in the Call Center/CRM Conference and recently announced partnership with CBA highlights CafeX's sales and marketing initiatives in the Asia-Pacific region, complementing its recently announced expansion into the EMEA marketplace.
Supporting Quote
Sajeel Hussain, chief marketing officer, CafeX
"Much like other enterprises around the globe, Asian companies are facing a significant challenge to deliver a consistent and seamless customer service experience across a wide array of devices and mediums. The Call Center/CRM Conference gives CafeX together with our partner CBA an outstanding forum to demonstrate how WebRTC-based offerings can substantially improve customer engagement. We are eager to share our experiences and solutions with businesses in Asia, and demonstrate how utilizing these solutions can enhance customer satisfaction."
About CafeX
CafeX creates software that makes it simple for companies to transform digital engagement. Recently cited as a Gartner Cool Vendor for Unified Communications, CafeX powers contextual collaboration for websites and mobile applications in an Omnichannel environment to increase customer satisfaction and loyalty. CafeX enhances emerging WebRTC technology to create seamless in-app communication experiences across device platforms. In just two lines of code, businesses can embed video chat, co-browse, file share and perform other personalized engagement capabilities within applications. Enterprise integration software works with leading collaboration and contact center systems to unify the customer journey and protect existing IT investments. For more information about CafeX, please visit http://www.cafex.com or follow @CafeXComms.
###
CafeX Communications, CafeX Fusion, and Live Assist are trademarks of CafeX Communications, Inc. All other trademarks are the property of their respective owners.